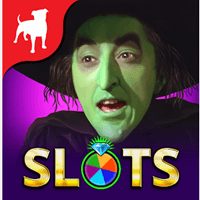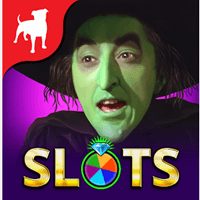 Hit it Rich Free Casino Slots Featuring Zynga's Popular Online Casino Games
Hit it Rich Free Casino Slots is a mobile casino app that offers gamers more than one slots game. The platform allows leveling up movement from the "Wizard of Oz" game, to other themed-titles such as 'The Terminator", "Duck Dynasty", and "Sex and The City".
The popular movies or shows have been masterfully modeled into reel icons using superb graphics and color that jump off the screen. App users can expect to hear theme songs of those favorites during play. The home screen with the original marquees of stars, clothing details and artifacts add authenticity to the simulated slot games. Zynga, Inc. brings authentic online casino experience out of the box for audiences 12 and over.
Hit it Rich Free Casino Slots App Features
Hit it Rich Free Casino Slots app encourages players to connect with Facebook instead of opening an account. This allows players to send to friends and followers, as many free spins as they want to keep everyone's game moving.
Fresh app users can take advantage of the Welcome Bonus of 30,000-coins immediately deposited in their new account. The perks keep getting better with bonuses awarded every day. There are bonus games within regular play that have blowout jackpots.
Hit it Rich Free Casino Slots is a free to download casino app, and ready to install in iPhones, iPads or mini iPads compatible with iOS Version 6.0 and up.
There are tons of in-app purchases including a Hit It Rich pack for $9.99, Going For It packs start at $19.99, and Ante Up packs cost $4.99. If you want more coins, check out the tiny coin pack for 99¢ or one of the coin packs. They come in denominations of one, five, 10, and 20 with pricing starting at 99¢ to $19.99.
Hit it Rich Free Casino Slots Game Features
Once the mobile casino app is installed, app users will find a broad assortment of games that take themes from popular television shows such as Downtown Abbey, Big Buckhunter, and more. Access though is granted gradually, since the Hit it Rich Free Casino Slots game play, follows a player leveling up system.
Each Hit it Rich Free Casino Slots is first rate, with loads of bonuses in the free spins round and in regular play. They can use those features to share coins with friends and family member or start a friendly competition.
The app receives constant improvements, the most recent of which were made with the latest app version 1.5.567 released last June 25, 2015. New games are coming including The Sound of Music, Glam Girls, and Kendra on Top.
This Hit it Rich Free Casino Slots app comes in seven languages, which include Dutch, Portuguese, German, Spanish, French, and more.