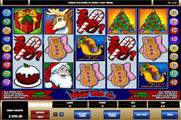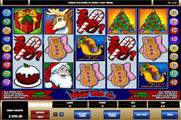 Christmas in July? Why not! Christmas is one of those holidays that is often too big to fall on just one day a year, or even during just one season. There's so much to shop for, so much decorating to do, and of course, all the great Christmas Carols to listen to! If this is your favorite holiday, then the Ho Ho Ho video slot game will likely become one of your favorites very quickly.
This game has very cute, cartoonish Christmas themed graphics. You'll find everything from gingerbread cookies, Christmas trees, gifts, Rudolph, and of course the jolly old elf himself, Santa Claus, just to name a few. All the graphics have plenty of reds, greens, and golds, as well as other primary and secondary colors to help balance them out and help them stand out. All of these wonderfully designed visuals and graphics of the game, whether for the symbols that spin across its 5 reels and its lines, or the graphics of the interface help create a pretty immersive Christmas themed slot experience. in addition to the great visuals, the comes with Christmas themed tunes and sounds that would push players deep into the Christmas theme of the video slot machine. This does not come as a surprise since the game is one of the games from the biggest gaming developer in the industry, Microgaming.

There re multipliers, wilds, and scatters in this five reel video slot. With just 15 paylines to keep track of, it's unlikely that you'll need the paytables to see what exactly you one, but they're available on a separate screen if you decide they may be useful to you. The one thing this game is missing, which was kind of surprising, is a bonus game. After all, that's one of the great things about the holiday season; all the surprises it brings! After playing a while, it was hardly noticeable that there was no extra game. All the other things it has, paired with the great graphics and Christmas carols, definitely made up for it.
So if you enjoy Christmas and want to enjoy it all year long without having to wait till the end of each year, then this amazing and highly rewarding video slot machine by Microgaming, Ho Ho Ho, is the video slot for you. Give it a few spins right here for fun with demo coins and get taste of the game and what it has before playing it for real.