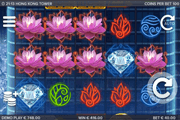 Hong Kong Tower Elk Studios Online Slot : Reap Great Wins via Mystery Symbols and Bonus Wheel Features!
Hong Kong Tower by Elk Studios is a 99 ways-to-win online slot that has potential to deliver amazing wins via a base game Mystery Symbol Feature and a Wheels of the Sky Bonus Game. Although Asian-themed, the reels actually contain a mix of Vegas-slot motifs and Chinese good luck charms as top-paying icons. The Number 7 for one, awards the highest pay of 250, 500, or 1500 on 3, 4, or 5 grouping of 7 Symbols conforming to a pay pattern. The Diamond comes in second, while the Pink Lotus and Bonsai Tree have lesser pays, but still notable, as they tend to emerge frequently.
The Hong Kong Tower game logo is a non-paying symbol, but is also significant because it randomly sets off the Mystery Symbol Feature. The Yin and Yang icon is the most awaited outcome, being the trigger symbol for the Wheels of the Sky Bonus Game. Free-spins are launched on bonus wheels; the turns continue for as long as Bonus Game players have Bonus Lives to use.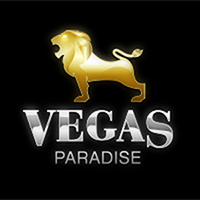 Overall Rating
PLAY NOW
Vegas Paradise
Welcome Bonus of $€£ 200 for all New Casino Players
Hottest Casino in the United Kingdom
Huge collection of online slots and table Games
Extremely High Payout Percentage
Monthly Promotions and Free Play
The Hong Kong Tower Online Slot: Mystery Symbol Feature
This is a random base game attribute carried out via the Hong Kong Tower Game Logo. An emerging HKT Logo may or may not proceed with the feature. When it does, it could immediately reveal the featured Mystery Symbol. In some instances, the HKT icon transforms into a Blue Yin and Yang Bonus Symbol, before revealing a final image. A notable attribute of the HKT Logo is its stacked structured. A stack of HKT logo therefore has potential to reveal as many as three (3) identical icons in a single reel.
Revealed Mystery Symbols though are not guaranteed to result to a win. Yet if a Blue Yin and Yang persists as concluding outcome of the Mystery Symbol Feature, the Wheels of the Sky Bonus Game immediately sets off. This is because the Mystery Symbol Feature gives a count of five to a single Blue Yin and Yang, emerging as eventual revealed Mystery Symbol. Such an outcome is doubly important because it not only triggers the Wheels of the Sky Bonus Game; it also brings 2 Extra Bonus Game Lives.
The Hong Kong Tower Online Slot: Bonus Game Symbol
Yin and Yang, the iconic symbol widely believed in Chinese feng shui practice as creator of balance and harmony, could very well bring a positive influence. The Red Yin and Yang variant activates the Wheels of the Sky Bonus Game, when three or more emerge as outcomes of a spin. As mentioned earlier, it may also come around as a Blue Yin and Yang of the Mystery Symbol Feature.
Three (3) Red Yin and Yang icons simply activate the tri-level Bonus Wheel Game. Four (4) not only initiates the loading of the bonus wheels but also awards one (1) Bonus Life. Five (5) Red Yin and Yang icons simultaneously in view, presents the most advantageous results, because two (2) Extra Bonus Game Lives will be awarded.
The Hong Kong Tower Online Slot: Wheels of the Sky Bonus Game
This bonus feature comprises three (3) Bonus Wheels, each of which represents a game level. The wheel segments indicate coin prizes and a Level-Up (arrow) Symbol. If a spin lands on a Level-Up arrow, the remaining spins will be played on the next Wheel Level. However, landing on an empty segment will end the Bonus Game. Not unless, a bonus game player has Extra Life to use in extending the play.
Hong Kong Tower : Land Amazing Bonus Wins via Wheels of Sky Bonus Game
Hong Kong Tower furnishes 99-ways to win, whilst randomly revealing Mystery Symbol/s to boost outcomes of a base game spin. Bonus Rewards can be won via a tri-level Bonus Wheel Game, with Extra Life feature to optimize players' chances of reaching the highest paying Bonus Wheel.