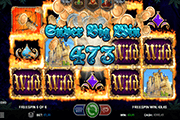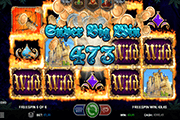 Hood Online Slot: Feature-Rich Mr. Smith Online Casino Exclusive
Hood online slot is a 20-payline content offered exclusively by Mr. Smith Casino. The popular English folk hero Robin Hood as main theme, whips up win outcomes by way of random reel modifiers. Robin Hood also unlocks a Bonus Wheel as a way of doling out guaranteed cash prizes; either by ways of Free-Spins or Pick Bonus Games.
Occasionally, a Treasure Chest filled with royal riches appears in Reel 5. The icon simply brings out a random amount of instant cash reward. This game also comes with a Vertical Win feature that awards 1000 coin credits via a full reel image of either Lady Marion or of Friar Tuck.
Vertical Winning Symbols are full-reel images of Lady Marion and of Friar Tuck. Lady Marion is an exclusive Reel 2 content, while Friar Tuck emerges only in Reel 4. Both elements are special, as any that lands as a full-reel icon, automatically results to a Vertical Win. However, only one may emerge as outcome of a single spin.

Hood Online Slot: Random Base Game Bonus Features
At any time when a paid spin launches, one of three (3) Reel Modifiers may change the outcome of that spin.
Reel Crazy – Robin Hood swings across the grid to ensure a win. As he swings back and forth, he revises the outcomes to make sure it will result to at least one winning combination.
Reel Blast – This reel modifier gives players a chance to complete a Robin's Riches combination by way of a Trebuchet. If two (2) Robin's Riches icons are already in place, the Trebuchet will fire at Reel 5, as means of force producing the completing bonus symbol.
Target Practice – Robin Hood will engage in target practice by covering the grid with Archery Targets. Each target holds a mystery symbol; and will subsequently swap positions to create one or more winning combinations.
Hood Online Slot: Robin's Riches Bonus Feature
Robin's Riches icons occur only in Reels 1, 3, and 5. If a paid spin returns with that Bonus Symbol in all three (3) designated reels, the event activates Robin's Bonus Wheel. A spin of the wheel will give players a chance to collect bonus wins by playing a round of free-spins, or one of three (3) Bonus Games.
Free Games
If the indicator lands of a prize wedge displaying a number of Free-Spins, it denotes that a player will engage in a round of free games. The number displayed by the prize wedge determines the duration of the bonus bout.
On every bonus spin, certain symbols will be on display above the grid. Should any of the featured symbols land as outcome, all in view transforms into a Wild; but only for each related spin.
Rich Pickings
This is a Pick Bonus Game that presents an array of Barrels arranged in several rows. On each level, a row of Barrels may reveal either an instant cash prize, a Next Level Prompt or a Castle Guard.
Hood slot players engaged in this game may reach the highest Bonus Prize if they get to pass through each level. However, a Barrel may reveal a Castle Guard that will cut short a player's bonus-picking activity.
King's Ransom and Super King's Ransom
These are two different bonuse game but with similar game mechanics. Both bonus features, initially present sixteen (16) Money Bags containing Mystery Multipliers. The game carries on via six (6) rounds, in which a specific number of Money Bags burst into flames to reveal a Multiplier.
The Super King's Ransom will of course present Money Bag Multipliers with greater values.
In each round, players can immediately collect the corresponding cash values garnered from the revealed Multipliers. If a player chooses to collect the current winnings, the bonus game ends. On the other hand, a player may prefer to advance to the next round to vie for higher rewards in exchange for the current winnings.
The next levels though contain fewer Mystery Multipliers to reveal. Actually, the sixth and final round will offer only one Money Bag as Multiplier holder.