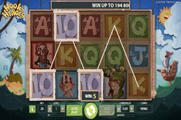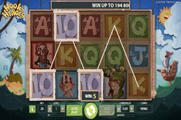 Hook's Heroes Action-Packed and Highly Entertaining Cartoon Video Slot by NetEnt
Hook's Heroes, a 5-reel NetEnt video slot with 20 fixed paylines presented in cartoon-style graphics. One could wonder how a motley crew of pirates became heroes, but in any slot player's book, Hook and his pirates here, definitely deserve recognition as champions.
First off, the comical-looking brigands are high paying symbols, while a mean-looking Captain Hook is the main man of the game. The Hook character depicted in this video slot adores a Fairy, and looks quite terrified of a Mermaid. Yet he is capable of some mischief, at some point breaking the usual rule of symbols needing to appear in consecutive reels to qualify as eligible win combinations. Such an occurrence of course is beneficial to a Hook's Heroes slot player.

The Hook image is actually the Wild Symbol of the game. Substituting for regular symbols though is only one of its desirable traits in this NetEnt video slot. However, a queer looking fellow disguised as a crocodile could upstage the video slot Hook icon. The Crocodile Fellow is the Scatter Symbol that brings around Hook's Heroes Special Game Features.
Hook's Heroes Generous Special Game Features
When playing this Hook's Heroes video slot, players should be on the lookout for the Crocodile Fellow Scatter Symbol. Two Scatter Symbols appearing in any tile position across the reels trigger an instant free-spin. Each spin is enhanced by any one of three Special Game Features, namely the "Fairy Feature," the "Mermaid Feature" and the "Pirate Feature."
The "Fairy Feature" is a special occurrence in which Hook's own version of a Tinker Bell fairy flies across the screen. The fairy then transforms regular symbols into Hook Wild Symbols.
The "Mermaid Feature" is a bet-free spin that doubles the payout of the win or wins produced as outcome of that spin. Except for win outcomes that made use of the Hook Wild substitution functionality, because the payout value quadruples (4x) for those kind of wins.
The "Pirate Feature" is that part of the game when Hook breaks the standard rules of symbols needing to appear in active paylines, or in adjacent reels, in order to qualify as winning combos. Hook appears and wallops the screen from the outside. Such behavior might seem odd, but those actions make it possible for players to collect rewards from all like symbols appearing as outcomes of the bet-free spin, regardless of their position or line structure.
Win Big via Hook's Heroes Free-Spins Bonus Game
Single bet-free spins with Special Game Feature happen if only two (2) Crocodile Fellow Scatter Symbols came around as outcomes of a regular spin.
When three or more Scatter Symbols emerge as spin outcomes, it is a different story altogether because a Free Spins Bonus Game will launch.
Hook's Heroes bonus game players have three options on how they want to proceed with the Free-Spins round. Those options of course, are the Special Game Features that occur as a single bet-free spin in the base game.
In the Hook's Heroes Free-Spins Bonus Game, a "Fairy Feature" brings around seven (7) free spins, while two (2) up to five (5) Wild Symbol overlays will be added by Hook's fairy friend.
A "Mermaid Feature" triggers the activation of 10 free spins in which the wins are either doubled or quadrupled.
A "Pirate Feature" Free-spins Bonus game also sets off ten (10) bet-free spins in which all one-of-a-kind symbols pay without regard for payline structure or reel position.