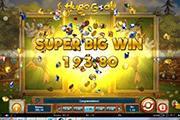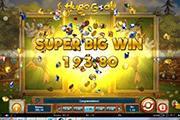 Hugo Goal Online Slot: Full-Reel Images and Stacked Symbols Trigger Respin Features
Hugo Goal online slot is the third of PlayNGo's online casino content themed after the popular Scandinavian TV Troll. The delightful troll continues to motivate players in placing bets on this 5-payline, neoclassic 3-reel slot. Aside from maintaining his role of Wild Symbol, Hugo also figures as Goal Keeper in a Penalty Shoot-Out that awards a Win-Multiplier increment.
The 3×3 grid contains mostly full-reel images of Hugo Characters and Stacked Symbols of football related objects. Full displays of elements are significant, because they can trigger two (2) types of Respin Features. One is a Second Chance Respin, while the other type carries on as a Spin-to-Win bonus.
The evil witch Afskylia is still an element of this game; in disguise as a stern female umpire. Despite her villainous character, her presence could be a boon. Three (3) of her icon in any payline will earn players 25x the Line Bet.
Still, Hugo pays higher at 80x the Line Bet, should his images complete a winning payline combo. At the same time any segment of a Hugo Wild may take part in completing additional payline win/s; or even in triggering any of three (3) bonus events.


Hugo Goal Online Slot: Free Kick Feature
This feature activates if a non-winning spin produced two (2) full-reel images of alike Football Objects. It give players a second chance of striking one or more wins, by allowing the conflicting reel to respin at no extra cost.
Hugo's Wild Symbol qualifies as alternative component of a full-reel stack of symbols; as long as the Wild-representation completes a 2-reel match.
Hugo Goal Online Slot: Action Replay
Two (2) reels returning after a non-winning spin with full-body images of the same Character, sets off this feature. This time though, the contradicting reel spins until at least one (1) payline win is achieved.
A full-reel Hugo Wild, or even a segment, can complete a full-body image that will fulfill the feature's 2-reel requisite.
Hugo Goal Online Slot: Penalty Shoot-Out Feature
In the event all three (3) reels return with full reel elements of any type, Hugo will take on five (5) Penalty Shots. As Goal Keeper he will try to prevent five (5) Penalty Kicks from scoring a goal. Qualifying Hugo Goal players participate by choosing a spot for Hugo to guard.
If a player makes a correct guess, the default 1x Win-Multiplier increases by 1. Should Hugo succeed in preventing all five (5) Penalty Kicks from scoring a goal, players likewise succeed in hitting the maximum 10x Win-Multiplier. The final Multiplier will then increase all winnings generated by the spin that triggered this feature.
The most exciting event is when an Action Replay or Free Kick Respin generates three (3) full reel Stacked Symbols or full-body Character images. Such outcomes can also set off the Penalty Shoot Out. The resulting Multiplier will likewise apply and therefore increase the feature's winnings.