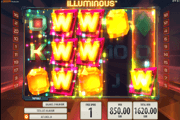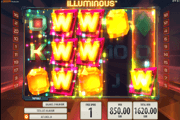 Illuminous Online Slot – Bright and Clear Wins via Quickspin's Bonus Wilds and Hot Reels
Illuminous online slot from Quickspin has the potential to deliver clear and brilliant wins by way of the game's innovative Hot Reels Feature. Colourful gemstones brighten up the slot screen when landing as matched-symbol groupings on any of the 20 fixed paylines. Ruby, Topaz, Emerald, and Sapphire icons glimmer with every win; the Ruby icon paying as much as 500 coins for every 5-of-a-kind payline matches.
[/CBC]

Yet the Illuminous Bonus Wild Symbol shines the brightest as it works in conjunction with the Hot Reels Feature to bring around Extra Wilds. After all, Wild Symbols in all forms, help complete identical-symbol groupings that could lead to numerous and potentially lucrative payline wins!
Illuminous Online Slot Regular Wild and BONUS WILD Symbols
This Quickspin real-money betting game has two (2) types of Wild icons. There is a regular Wild tile represented by a brightly illustrated W icon. The W Symbol not only poses as eligible replacement for regular Illuminous reel icons, when appearing in any reel position. The regular W Symbol can form its own payline combinations consisting of three, four, or five W Symbols. Wild Symbol payline wins award 50, 150, 500 coins, respectively.
The BONUS WILD Symbol is the star of this Illuminous slot reels ensemble. The significance of its occurrence goes beyond substitution actions and matched-payline combinations.
• Two BONUS WILDs appearing anywhere after a paid spin, trigger the launch of a bet-free Respin and the activation of the Illuminous Hot Reels spin boosters;
• A combo of three or more BONUS WILDs sets off the Illuminous Free-Spins Bonus Game in combination with the Hot Reels special game feature. The free round initially awards five free spins, yet players can expect to receive more.
Illuminous Online Slot Hot Reels Feature
Quickspin's innovative Hot Reels mode makes hitting payline wins and cost-free respins a lot easier for slot players. The Hot Reels feature brings around multiple Wild Symbols, in numbers greater than those that occur as ordinary spin outcomes. After a Bonus Wild respin, or a Bonus Game free spin, the Hot Reels may return with an abundance of both regular Wild and Bonus Wild Symbols.
In addition, a base game respin outcome with two Bonus Wild Symbols in place will have greater effect. A pair of those special Wilds triggers another respin.
In the Illuminous Free-Spins Game, a trio of the Bonus Wild icons triggers another round of bet-free bonus spins.
Illuminous Online Slot Betting Options
Bets staked on each spin covers for all 20 paylines, with each payline requiring a minimum of two-coin credits. Illuminous slot players can choose from betting options ranging from 0.40 (0.01 x 2 coins x 20 paylines), up to 80.00 (2.00 x 2 x 20 paylines). Any amount selected represents the total bet per spin, while the corresponding coin value of a chosen bet option, serves as multiplier of coin rewards received from each payline win.