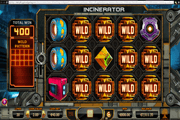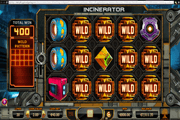 Incinerator – Space-Age Themed Online Slot with Wild Pattern Feature
Incinerator is a 5-reel, 20-payline online casino slot offering furnished by Yggdrasil Gaming. Here, reel icons could land as matched symbols in a payline as they drop into gaps created by disappearing winning symbols. The main attractions of this real-money gambling recreation are the multiple Wild Symbol transformations that occur after three (3) consecutive drop-wins.
The introductory video clip presents an outer space site called "Junk Planet", outfitted with a high-tech incinerator ready to process an assortment of spacecraft discards. It appears that the slot framework is the incinerator that processes the techno discards. An assortment of six reel icons representing space trash that is about to be burned, disappear if any 3, 4, or 5 of-a-kind images drop into payline patterns as winning combinations.


This Incinerator online slot by Yggdrasil does not have a Free-Spins or Bonus Game to offer. Still, the game has a Wild Pattern Feature that produces four (4) Wild Symbols at the least, up to nine (9) Wilds at the most in a single occurrence.
Incinerator Online Slot Wild Pattern Feature
Take note of the mini-grid appearing on the left side of the slot interface. It presents the outline of the positions in which Wild Symbols will appear after three (3) consecutive drop-wins. There are two types of Wild Patterns in play: the Normal and the Super.
The Normal Wild Patterns comprise four up to six Wild Symbols that boost players chances of hitting successive wins. Drop-wins formed by the Normal Wild Pattern Feature could potentially activate the Super Wild Patterns.
The Super Wild Patterns – This type constitutes six (6) up to nine (9) strategically positioned Wild Symbols that create greater chances of hitting top-paying, 5-of-a-kind payline combinations.Yggdrasil Gaming stated in the Rules info that it is possible to immediately activate the Super Wild Pattern with the first set of triggering drop-wins.
Once a Super Wild Pattern has been activated, uninterrupted drop-wins produced by the existing Wild Symbols will likewise produce more Wilds in Super Pattern mode. During a continuing streak of wins, the new Wild Symbols created by the most recent Wild Pattern feature, will pose as additional Wilds to the unused Wild icons remaining in the reels.
Incinerator Online Slot Betting Options
All 20 paylines are in play and available when random Techno Trash icons drop into reel spaces or gaps. Incinerator slot players must place a coin value on each payline to activate the icon-dropping actions. The coin value choices are from 0.01 up to 2.00. Betting options therefore, start at 0.20 (0.01 x 20 paylines)as minimum bet per drop; up to a maximum of 40.00 per drop (2.00 x 20 paylines).