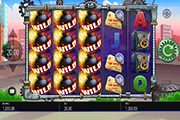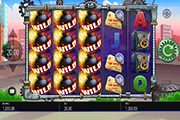 Inspector Gadget Online Slot: 5 Base-Reel Modifiers and 5 Bonus Game Types
Inspector Gadget online slot by Blueprint Gaming takes on a popular 1983 TV animation character in furnishing an exciting reel-spinning adventure. While investigating crime scenes and answering mission calls, the cyborg police inspector will also bring random reel-modifiers.
Such events activate the Go-Go-Gadget Reels that expand with up to 7 symbols and 50 paylines. The inspector's amazing gadgets may then create Multiple Wild additions, Stacked Wilds, Mystery Symbols, a Colossal Icon or even enrich the reels with M.A.D. Bonus Symbols.
The excitement heightens once the evil Dr. Claw and his M.A.D. organisation enters the scene via the Bonus Games. Five (5) types of bonus features that include Pick Bonus Games and Free-Spins Rounds will carry out Dr. Claw's fiendish M.A.D. capers. The five games rank in a specific order, starting with the "Safe Heist."


Players though have an option to play the offered game, or to spin the huge Bonus Game Reel. If the spin unlocks the next level bonus, the gamble feature is still open; giving players another chance to play a higher game level. However, Inspector Gadget players must keep in mind that they also stand to lose their chance of playing any bonus game whatsoever.
Inspector Gadget Online Slot: Wild Symbols
The Bomb image represents the regular Wild Symbol that occurs during standard spins. Aside from having capability to represent a regular-paying totem, the Bomb Wild may also create its own winning arrangement. When 2, 3, 4 or 5 Bomb images align accordingly in any payline, the longest Wild combination formed, garners 2, 40, 100 or 500 coin credits, respectively.
Other Wild Symbols may appear but only as part of the Go-Go-Gadget Reels activated at random by Inspector Gadget.
Inspector Gadget Online Slot: Go-Go-Gadget Random Modifiers
Occasionally, Inspector Gadget answers a call, either from Chief Quimby, Penny or even from Penny's pet dog, Brain. The call actually initiates the activation of a spin that plays on Go-Go-Gadget Reels; displaying as many as 7 layers of symbols in a single reel. Moreover, win-boosting elements specific to a mission, will modify reel contents with the following:
Inspector Gadget Wilds – Multiple Gadget animations appear on screen to create and add wilds in random positions across the expanded reels.
Penny Stacked Wilds – Stacked Wilds will spin across and will subsequently occupy reels.
Brain Mystery Symbols – Multiple Brain overlay images take up random reel positions. Once all reels complete a turn, Mystery Brain symbols transform into a single type of icon.
Colossal Symbols – During the triggering spin, a shutter comes down to cover the reels. Once the shutter rolls up, the screen will reveal a colossal 3×3 symbol that will take positions either in Reels 1, 2 and 3, or in Reels 2, 3 and 4.
M.A.D. Bonus Symbols – Multiple M.A.D Bonus Symbols populate the reels; greatly increasing chances of landing 3 or more M.A.D. icons that will activate the Main Bonus Feature.
Inspector Gadget Online Slot : Bonus Games
One of five (5) M.A.D. Bonus Games sets off, once 3 or more M.A.D. icons simultaneously occur as outcomes of a paid spin. The bonus game panel usually starts with the "Safe Heist" game as initial offer.
Participating players can either play the offered bonus feature, or take risks by spinning the huge Bonus Reel. In choosing to spin the Bonus Reel, players can either advance to the next bonus game or lose the chance to play any bonus feature at all. Still, if the latter event happens, they still stand to receive a special cash prize.
The five (5) Bonus Games include:
The Safe Heist – This Pick Bonus Games allow players to collect bonus rewards by selecting any of the Safe icons presented by the panel. Every time a Safe is selected and before the bonus is revealed, players receive an offer to swap their Safe choices in exchange for a chance to play all the remaining Bonus Games.
The M.A.D. Agent Bonus Game is a race to unravel three (3) matching icons to win a corresponding bonus: a M.A.D. Agent, Dr. Claw's M.A.D. Cat or M.A.D. Bonus Symbols. If a M.A.D. Cat combination is achieved, the icon-matching game upgrades the prizes. Yet if the picking activity produces three (3) M.A.D. Bonus Symbols, the event awards the ultimate M.A.D. Money Bonus Game as prize.
Every Penny Counts Free Spins is a bonus round that gradually reveals reels holding Sticky Wilds. Revelations start at the top until it reaches bottom level, where Inspector Gadget appears. Once in view, he will help players carry out the free-spins game by landing on any of the randomly placed Sticky Wilds.
M.A.D Dash Free Spins play out with a fixed number of Free Spins. The bonus round comes with a special grid that randomly lands on either a cash prize, additional free spins, or Extra Wilds. After each bonus spin a Gadget Car overlay symbol may appear to randomly select and award a bonus corresponding prize. The feature ends when all free spins, including the Extra Spins, have been played.
M.A.D Money Bonus – This bonus feature awards the highest cash prize values by selecting from an array of Bombs spinning around Dr. Claw. Bomb Colors: Bronze, Silver or Gold determine the size of the Cash Reward. However, if a chosen Bomb reveals a Collect prompt, the Bomb Picking activity ends with the awarding of all cash rewards revealed.