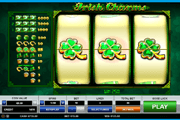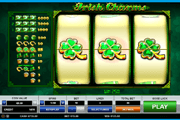 Irish Charms : 3-Reel, 3-Payline St. Patrick's Day-Themed Online Slot
Irish Charms by Pragmatic Play presents slot enthusiasts with a good choice in celebrating St. Patrick's Day at online casinos. Charms widely believed as bringers of luck and good fortune appear in 3 reels, and in 3 rows of images. Icons appear mostly in green, gold or yellow. Quite easy on the eyes and relatively effortless to play, players can earn returns on the outcomes of spins by several ways.
First off, this 3-reel slot offers three (3) win lines, as opposed to the traditional single payline of a classic slot. Each row of symbols represents a win line on which identical, or a mix of eligible images form a winning combination. Secondly, it features a Wild Symbol represented by the Number 7, which by the way, is not among the well-known traditional Irish Charms. Lastly, some symbols, albeit lesser paying, award coin wins when combining with certain icons in a win line. The Mug of Beer, which is the lowest paying but frequently appearing reel element, awards coins wins, when one or two of such image occurs in an active payline.


This game though has no Bonus Round to offer; Irish Charms players therefore will earn rewards only on outcomes of paid spins.
Irish Charms Online Slot: Wild Symbol
The Number 7 poses as the joker card that can represent any Irish Charms icon to complete a one-of-a-kind arrangement in every played line. The rewards earned on winning combinations completed thru Wild substitution, are based on the corresponding pay awarded by the winning symbol.
Actually, the highest paying icon is the Number 7 as the symbol may also land as a winning element. A Wild 7 payline win garners 1,000 coin rewards. If by chance, a spin produces two (2) winning Wild 7 combinations, 3,000 coins will be awarded. The most exciting result is when all three (3) win-lines comprise purely Wild 7 Symbols; such an event fetches the 6,000 coin jackpot.
Irish Charms Online Slot: Symbol Payouts
Four (4) traditional Irish Charms appear regularly as outcomes of a spin. Three (3) Green Pot of Gold totems awards 900 coins. The Horseshoe, the Four-Leaf Clover, the Green Top Hat, and the Mug of Beer award 50, 25, 15, and 10 coins respectively on a 3-symbol match.
Typical of a classic 3-reel slot, a combination of some symbols may appear along a payline and likewise garner coin wins. Those symbols include the Horseshoe, the Four – Leaf Clover, and the Green Top Hat. A combination of any of those three (3) images lining up in a played line, earns players 5 coins.
The Mug of Beer has its own special attribute. A single Beer icon emerging in an active payline awards 2 coins. The reward increases to three 3 coins when two Beer images simultaneously take position in any row or column of a played line.
Irish Charms Online Slot: Betting Options
Players may opt to play with one, two, or all three horizontal win lines. This means every Bet per spin is multiplied by the number of lines activated.
A coin denomination defines the value of the bet staked on each line, to which the choices are between 0.01 and 0.50. Those looking to place an amount greater than those denominations could do so by increasing the number of coins staked per win line. The numbers of coins available as options are from one (1) coin up to 10 coins per line.
A spin therefore may be launched with a Total Bet as low as 0.01 (0.01 x 1 Payline x 1 coin), or as high as 15.00 (0.50 x 3 Paylines x 10 coins).