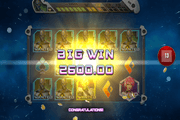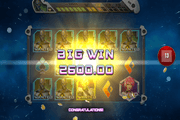 Iron Girl Online Slot: Capture a Villain to Trigger Respins that May Bring On Additional Win-Boosters!
Iron Girl online slot is a PlayN'Go, 20-payline content that takes players on outer space missions to hunt down extraterrestrial villains. Players role play as a female bounty hunter, in order to collect rewards for capturing one-of-a-kind villains that land on paying lines. The range of values awarded are noteworthy. Images of the 4 uncanny criminals are top paying elements. Even more significant is the Respin that transpires after their capture. A single Respin may even lead to more free turns, if the reels continue to produce additional icons of the apprehended villain.
Although this game has no free-spins round to offer formally as bonus game, a Respin that progresses to a series of free rolls is just as lucrative. Winning Symbols and all other likenesses appearing thereafter, lock in place. At the same time, every icon of the captured villain counts as a collectable symbol that unlocks a Bounty Bonus. A specific number comprising a Villain Collection may add Wilds; or apply a 2x, 3x or 5x Multiplier to the Total Respin Winnings.
Iron Girl is the Wild Symbol, but it takes position only in Reels 2, 3, 4 and/or 5. Her icon qualifies as a representation of any element. In fact, her arrival on reels during free rolls, also count as additional image that can prolong the Respin Feature.
Moreover, this female bounty hunter randomly adds up to five Wild Symbols the moment she emerges in her Iron Armour. In such instances, Wild tokens may land on any reel, including Reel
1.


Of the 4 outer space anti heroes, the one in Greysuit, has the highest bounty. A group of 3, 4 or 5 Greysuit icons, occurring from the leftmost of a payline, awards 160x, 560x or 1600x the value staked per line.
Iron Girl Online Slot: Iron Armour Feature
On any regular spin that is about to launch, Iron Girl clad in her Iron Armour, will appear to impose her substituting powers to the reels. Since her aim is to capture villains in a winning situation, she will add two, up to five Wild Symbols in random positions.
If her imposed Wilds succeed in completing a winning Villain combination, the play proceeds with the Respin Feature.
Iron Girl Respin Feature with Bounty Bonus
A winning combination of any Villain icon sets off a Respin. The feature locks in place all images of the apprehended VIllain, including those not forming part of the winning combo. In cases in which Wild Symbols helped complete the winning arrangement, the substituting elements, likewise remain glued to their position.
Should the Respin and succeeding free rolls thereafter, produce more of the Villain icons and Iron Girl Wilds, the non-locked reels will continue to roll at no cost.
Actually, a prolonged Respin Feature is ideal. It will give players a chance to collect Villain Symbols in numbers that unlock a Bounty Bonus.
Bounty Bonus
Every Villain image that locks in place during a chain of Respins, works toward the unlocking of a Bounty Bonus. Collecting 8 up to 14 Locked Villain icons will release the following bonuses once the required number is attained:
* Eight Locked Villains will bring on two (2) Iron Girl Wilds
* Ten Locked Villains award a 2x Multiplier that applies to the Total Win at the end of the Respin Feature.
* Twelve Locked Villains collected will increase the Total Win Multiplier to 3x, which will then apply if ever the Respin Feature ends with that Bonus Bounty.
* Fourteen Locked Villains held during a series of Respins, will install a 5x Total Win Multiplier. If that Multiplier is up when the Respins end, then the Total Winnings will increase 5x.