Iron Man Slots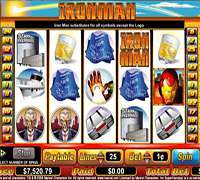 The man who sports a robot suit to save the world from villains and still drinks a cocktail is now making his debut in slot games! Iron Man, the hero with the power to save people in a suit, has finally come to the slot game world with his namesake game. The game, a 5 reel, 25 payline and progressive slot game, is brimming with Iron Man everywhere. From his likeness to the symbols associated with him, Iron Man is a badass slot game everyone's got to play.
Iron Man Slots No Download
Besides having the good betting options everyone can get into, it's one of the few slot games based on comics that have a progressive jackpot which means the jackpot keeps on growing as more and more people win and lose. At any time, one bet can win you millions of dollars. Think you can win and become your own Iron Man? Time will tell. Just place some demo credits on the game right here, and find out for yourself right now.
The bonuses included in Iron Man are phenomenal. From the wilds to the scatters, it gives you more chances of winning more winnings. The bonus round of the game is also cool, where you have to blast windows to retrieve blueprints. Playing a slot game while doing hero work? Nice. All of the special features, the line payouts as well as the bonus rounds that Iron Man has to give can be viewed at the paytable of the game. This gives players the ability to check out all of what the game has to offer before engaging in the game. Also, the game is available here for free so players can check out the game and take it for a test drive before they can start placing real bets on the game at online gaming casinos.
The world is in danger and in times of need, Iron Man is there. Help him save the world and win your money through the lines of the game and its bonus features. So you will not only get to join the Marvel Super hero for an action packed adventure, as you will also get to bask in the glory of superheroes while reaping the many rewards and prizes that this video slot machine has in store for you.
Update: As with all Marvel slots games, this game has been discontinued.