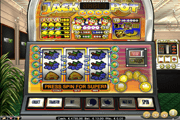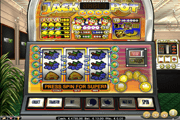 Jackpot 6000 : Classic Vegas-Style Net Entertainment Slot with Two Special Betting Options
Jackpot 6000 is a fruit-themed video slot presented in the traditional Vegas-style 3-row x 3-column grid. Net Entertainment though, enhanced the classic format by configuring the game with five paylines and two special betting options:the "Heads or Tails Game" and the "Supermeter Mode"
Any or all five (5) paylines can be activated by wagering on each or all payline selections. Regular payline wins are achieved when three identical symbols line up in an active horizontal or diagonal payline. The payout value of each payline win depends on the fruit symbol that created the matched combination.
Placing Bets on Jackpot 6000
The first payline is the centermost horizontal row. This is the only active payline if a player chooses to stake a wager at Bet Level 1. However, slot players must take note that a Bet Level 1 stake pays only half of the payout value indicated in the Jackpot 6000 paytable. In order to earn payline wins in full, players must enable at least two (2) active paylines.
Clicking on the BET button increases the Bet Level or the number of paylines activated. If a player opts to place a MAX Bet, clicking on the corresponding button automatically stakes 2x the 1.00 coin value on all five (5) paylines or a total bet of 10.00 for each spin.
[/CBC]
Playing the "Heads or Tails Game"
Initially, all MAX Bet spins carry on as base game play. Once a payline win is achieved, Jackpot 6000 players have the option to double their winnings by staking the win amount in "Heads or Tails Game."
To place only half of the win amount, clicking on the TRANSFER button reduces the stake since the function transfers half of the win to a player's total credits. If a player prefers to keep all wins and continue with the base game play, he or she can simply click on the COLLECT button.
An alternative to the "Heads or Tails Game" is the Jackpot 6000 "Supermeter Mode."
Playing the Jackpot 6000 "Supermeter Mode" Game
A Max Bet qualifies a player to play the game in "Supermeter Mode." Here, players gain extra rewards whenever two (2) or more JOKER symbols appear in any spot across the 3×3 grid. The JOKER wins are added to the payouts earned from regular payline wins.
The "Supermeter Mode" is activated whenever a base game win occurs. Presented as alternative to the "Heads or Tails Game," the "Supermeter" option means placing a fixed stake of 20.00. All current winnings are indicated in the "Supermeter," enabling players to keep track of their "Supermeter Mode" game performance.
Players who wish to go back to the base game play can simply click on the COLLECT button so they can add the "Supermeter Mode" winnings to their credits. Otherwise, the game carries on with the special game play. It ends automatically if the total "Supermeter" winnings reached the maximum 6,000 top prize; or if the "Supermeter" win balance has zeroed out.