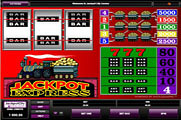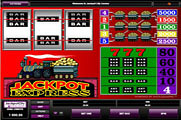 Jackpot Express Free Slot
Grab your bags and get aboard the Jackpot Express train so you can enjoy a great travelling experience on top of the most rewarding train of all times. Just place the bets at the control panel and spin the reels so you can start reaping on the great rewards that the Jackpot Express has to offer. Players will see the Jackpot Express with its carts filled with golden coins under the reels of the game on the left side. On top of the train, they will see the name of the game written in red with yellow outline.

A Three Reeled Classic Free Slot Experience
As for the fruit machine's 3 reels, they are found on the left side and they have five paylines, which is more than what most 3-reeled slot machine offer, as they usually offer 1 payline. This means that players will have five chances of achieving a winning combo. The different winning combos that players can earn can be viewed at the game's payouts table. This table can be seen on the right hand side of the reels. It lists all of the symbols that will appear on the reels and their respective payouts. The symbols include one bar, two bar, three bar symbols, red sevens and the Jackpot Express itself.
All symbols will have to appear in 3s on the paylines of the game in order for players to get paid. The only exception to that rule is the bar symbols, as players can get paid whenever any three different bar symbols land on the paylines.
The game's control panel, like usual slot machines, can be found under the reels and under the payouts table. This control panel contains the different buttons that will enable players to control their game play. This includes placing the bets by going through the betting options that include the number of coins, from 1 to 5, and the value of the used coins which varies between 0.25 and 5 which results in forming the betting range of the fruit machine which starts at 0.25 credits up to 25 credits per spin.
Although the game does not have any special bonus rounds, wilds or scatters, it is still pretty rewarding. This is because it makes up for that by offering generous line payouts and a total of five winning lines that players can place wagers on.