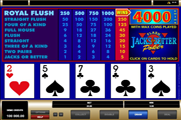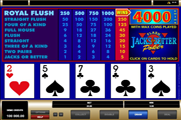 Plus, it's available to play at leading online casino, Gaming Club. Let's take a more in depth look!
When it comes to playing Jacks or Better, there is a standard deck of cards numbering 52. There are however no jokers, no wild cards, and no bonuses. You must first click on Deal to get your cards, and this is where you can play one of two ways. You can either allow it to automatically process through Auto Play, which means any decisions will be made for you via a strategy that's mathematically sound, and you'll be able to stop anytime you want. Or, you can choose to play each and every hand yourself manually. Take note that after a winning hand, you can choose to double your win by facing off with the dealer. This entails five cards being dealt onto the screen. Four of these cards will be face down, and one will be face up. You will then have to pick one of the face down cards and if the card's value is more than that of the dealer's face-up card, then your win will double. You can then choose to double once more, or instead, quit and collect your winnings.

Yes, Jacks or Better is a very simple but fun game to play. The graphics are clear and crisp and the game play is ultra-smooth. The maximum jackpot is 4000 coins, which you will win if you land a Royal Flush – in other words, a Ten, Jack, Queen, King and Ace of the same suit.
Jacks or Better can be played at most leading online casinos, including Gaming Club. Established in 1994, Gaming Club is the original online casino, and it's been blazing the trail for other online casinos ever since. Licensed by the Lotteries and Gaming Authority of Malta, Gaming Club also has approval from the industry's regulatory body, eCOGRA, for adhering to strict guidelines – prompt payouts, responsible casino behaviour, and fair game play.
As for the games, there are over 500 to pick and choose from. Like Jacks or Better, these are all powered by leading casino software provider, Microgaming, which means the graphics, animation, game play, navigation, and audio are all excellent. New games are also continuously released, so the collection is always expanding. Aside from the video poker games, there are also slots, blackjack, roulette, baccarat, and more.
Deposits and withdrawals can be made swiftly and efficiently thanks to an excellent selection of web wallets, prepaids, credit and debit cards. Plus, your privacy will be maintained at all times due to state-of-the-art encryption technology. If you should have any question regarding games like Jacks or Better, or anything else casino related like banking, bonuses, and passwords, you can either consult the software or contact Gaming Club's brilliant 24/7 customer support team.
If you register now at Gaming Club, you can score a welcome bonus that's worth up to 350 credits. Best of all, you can use it to play Jacks or Better. Join in the fun now!