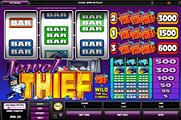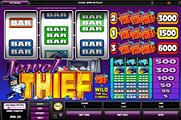 Jewel Thief Free Slot Game
The Jewel thief is a professional thief who only goes for the most precious stones and jewels, he knows that it is not about how much you steal, but what you steal. Microgaming invites players to accompany the Jewel thief in his heists as he goes from house to house in order to steal their jewels. Players will paid in return for their help and their effort. All what they have to do in order to claim their share of the stolen loot is to choose a bet, spin the reels and get winning combos on any of the three paylines of the slot machine.

A visually Satisfying Free Slot
Once the game opens, players will know that they are about to enjoy a visually satisfying experience because of the colorful interface and the beautiful design of the reels and its symbols. These three symbols are located in their usual spot, on the left side. The reels have 3 rows of symbols which also represent the three winning lines that players will have to get winning combos on to be able to claim an award.
The symbols appearing on the three reels and three lines include the Jewel Thief Logo, a blue diamond, the thief opening a safe, red bar symbols, blue bar symbols and green bar symbols. While all icons pay players when 3 of them land on any payline, the bar symbols can pay players whenever any 3 bar symbols, even if they don't have similar colors, land on a payline.
Under the reels, payers will see the name of the game and behind it, the Jewel Thief himself is sneaking his way to steal a safe. The different pays can be viewed at the payouts table of the game which lists all of the symbols and their respective winnings, it can be found across the reels on the other side.
There are three payouts available for each combo, this is because the game has three betting levels, so players will get paid in higher amounts for placing more coins. These bets are placed under the reels through the fruit machine's control panel. The Jewel thief logo is not a normal icon as it is the highest paying one that gives players from 1500 coins to 6000 coins. On top of that, it is a wild one that will replace all other icons on the game's payline to help players grab a payout.