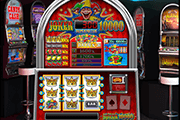 Joker 10000 3-Reel Online Slot: Supermeter Feature Awards Joker Mystery Prizes or 10K Jackpot
Joker 10000 by BetDigital is a 3-reel, retro-style online slot deployed to online casinos by NextGen Gaming. The 3×3 grid contains five (5) paylines. Joker 10000 players have the option to stake bets on as few as one (1), or on as many as 2, 3, 4, or on all 5 lines; albeit according to order of configurations. The middle row being the first paying line, the top and bottom rows as lines 2 and 3, respectively. The Diagonal Lines coming from left to right and right to left, are the 4th and 5th paylines.
Yet this game has a Supermeter Feature that makes playing all five paying lines the best Joker 10000 gaming option. The Supermeter uses the same set of reels and elements but makes a difference by awarding Mystery Prizes. Still, whether played in regular or Supermeter Mode, landing three (3) Joker icons in any payline awards the 10000-coin Jackpot. Needless to say, the cash value of all coin credits won, depends on the coin value staked as Line Bet.
This virtual slot machine uses popular classic reel elements, whilst awarding coin credits whenever three (3) identical images align in any payline. The Royal Crown icon is the highest paying regular symbol. It awards as many as 100 credits on every 3-symbol payline win. The BAR icon ranks second with 80-coin payout. The fruity elements, Watermelon, Lemon and Cherries Symbols, correspondingly pay 60, 40, and 20 coins.
The Joker Symbol is special as three of the Jester image in any payline garners the 10000-coin Jackpot. Yet players opting to gamble their most recent winnings on the Supermeter, will have great opportunities of landing on Mystery Prizes via the Joker icon.
Joker 10000 Online Slot: Supermeter and Gamble Features
Any win-event activates the Supermeter. Actually, players are given three (3) options every time a win is achieved. They can either collect the cash prize or use the amount to play in the Supermeter Mode. The third option is to gamble the winnings in a card-color guessing game.
Supermeter Mystery Prizes Clicking the Spin button automatically loads the winnings in the Supermeter indicator.
During a Supermeter play, two Joker icons emerging in any payline positions, garner random coin credits. Awarded as Mystery Prizes, the number of coins awarded is anywhere between 20 and 10,000.
Three (3) Joker Symbols simultaneously in view but scattered in non-payline positions, also bestow Mystery Prizes. This time though every Joker icon in view awards a random Mystery Coin Prize.
Card Gamble Feature – Clicking on the Transfer Button enables Joker 10000 players to wager their most recent winnings in a Card-Color Guessing game. They can either press the Spade/Black Card or the Diamond/Red Card. The same set of cards are displayed on the reels, lighting up alternately when activated by a bet.
Players who staked bets on the Card-Color to light up as winning card, earn twice the amount gambled. If otherwise, they lose the winnings placed as bet on this gamble feature.
Joker 10000 : Joker Symbols Award Side-Mystery Prizes via Supemeter Feature
Joker 10000 is a classic-style. 3-reel online slot that awards a 10000-coin Jackpot on every 3-Symbol payline win. Yet additional prizes on 2 or 3 non-payline coordinated Joker Symbols can be won whenever the Supermeter Feature is activated. The feature though requires playing all 5-paylines, and staking the most recent winnings as Bet per spin.