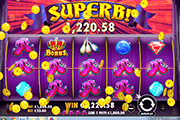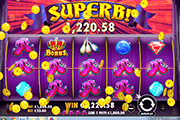 Joker's Jewels Online Slot: Uncomplicated 5-Reel Icon-Matching Game
Joker's Jewels by Pragmatic Play may largely appeal to those who prefer playing with uncomplicated icon-matching games. An array of Joker equipment and jewels, combine as reel elements in a 3×5 grid; to potentially land as matched icons in any of five (5) paylines. A group of 3, 4, or 5-of-a-kind images, taking positions starting from the leftmost reel, is a winning combination. However, only the longest matched grouping, garners a corresponding pay.
The Joker is the highest paying reel element; awarding 100x, 1000x, up to 5000x the Line Bet on 3, 4, or 5 that align as payline combination. On the same number of icons, the Mandolin and Juggling Clubs, award uniform pays of 50x, 200x or 100x the Line Bet. Even the least paying Jester Shoes and the Joker's Jewel collections have notable payouts. The latter group has Paytable Values of 20x, 50x or 200x the Line Bet.

This game though has no Wild Symbol to offer as win-boosting element. Still, most medium and low paying totems tend to appear as Stacked Symbols in one or more reels. The attribute may prove helpful in landing multiple payline wins via a single paid spin.
Although configured with a Bonus Game Symbol, the icon merely awards Scatter Pays. Joker's Jewels online slot has no Free-Spins Bonus Round from which to garner additional bonuses.
Joker's Jewels Online Slot: Bonus Symbol
A Crown image labeled as Bonus, awards a Scatter Pay when 3 or more land simultaneously anywhere across the play area. A scattering of 3, 4 or 5 Crown Bonus icons correspondingly doles out 10x, 50x or 250x the Total Bet. The latter being the amount wagered to cover all five paylines on a single spin.
Joker's Jewels Online Slot: Wagering Options
Every Bet placed as wager per spin, covers all five (5) paylines. The coin values available as betting choices range from 0.01 to 0.50. Those who wish to place higher bets may increase the number of coins staked as Line Bet. Increments are between 2 and 10. The highest amount to place as wager per line therefore, is 5.00 (0.50 x 10 coins).
The product of the preferred coin value multiplied by the number of coins is the amount wagered per payline; referred to here as the Line Bet. The Line Bet multiplied by 5 paylines gives the Total Bet staked per spin.
Paytable Cash Rewards for regular payline wins are multiples of the current Line Bet. On the other hand, the Crown Bonus Scatter Pays are multiples of the Total Bet.