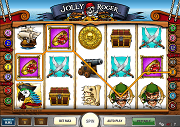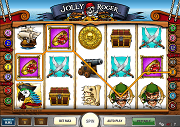 Jolly Roger Online Slots is a five-reel, ten-line, pirate-themed online slot game. The graphics are bright and colorful; featuring treasure maps, cannons, pirate ships, diamonds, scimitars, parrots, coins, rings and pirates. The pirate flag is the wild symbol, which substitutes all symbols other than the parrot, map and treasure chest.
The first thing players will notice about the sounds is that they will hear the sound of the ocean and seagulls as the predominate background noise; it is an ambient sound that works very well for the theme of the game. The cannons also make the sound of cannonball fire and the scimitars make the sound of clashing swords; both of which suit the game extremely well.
As the maximum bet is seventy-five cents, the player will not have to worry about using all of their credits for just a few spins. It is very easy to earn a substantial amount of credits while playing; though it is just challenging enough that the player will not win on every single spin and will have to think about what reels they want to bet on.
When a player gets three treasure maps, they trigger the bonus game. A treasure map opens up with red "X" shapes marking where they can "dig" for treasure. They pick a certain number of spots to click (or "dig) and will be awarded with the number of credits they uncover. This bonus feature can be quite lucrative, as the amounts of credits that can be revealed can be quite large.
Overall, Jolly Roger Online Slots is a very fun pirate-themed slot game. The music and sound effects fit the game's theme extremely well. The graphics are very bright, colorful and are suited nicely for the theme, as well. One of the things that set the game apart from other slot games is that there are no card suit symbols; which would have been extremely out of place here.