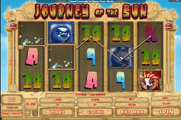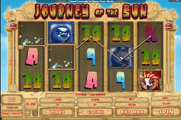 Journey of the Sun Slot Machine
The ancient Egyptian theme and the pharaohs have been the center of many video slot machines, including not less than 10 Microgaming video slots. This is why when Microgaming wanted to approach this theme once again, it decided to do so in a new way to avoid being redundant. This is why it has taken a cartoonish approach with the Journey of the Sun Slot Machine to the theme with anime looking pharaohs and animals that help add an authentic and an anime feel to the video slot.

The Reels and Lines of the Slot Machine
Journey of the Sun is a 5-reeled video slot machine that is going to take players back in time to the ancient Egyptian civilization where they can enjoy the hot desert sands of Egypt, the great monuments and to rub shoulders with friendly looking anime pharaohs. The game succeeds in creating this wonderful theme through the visuals it utilizes. For example, players will see the hot scorching yellow sands of Egypt in the background behind the reels. As for the symbols that will land on the game's reels and lines, they include the female pharaoh, the Egyptian bird, the wolf god and the cat god. The symbols also include the logo of the game and colorful card symbols that represent the usual low paying icons.
Each of these icons will give players a different payout when they get at least three of them on the same line from left to right. The biggest reward that can be claimed this way is equal 2000 coins, and it is given to players by none other than the wild ankh symbol, when 5 of them appear on the same payline. Players will have the chance to view the rest of the payouts by opening the View Pays button. They will also be able to view the special bonus rounds and special icons that the game has in store for them.
The placement of the bets is done under the reels by choosing the number of lines, coins and the coins' value. Players will then click on spin to start the game so the symbols will start spinning and forming combos on the paylines of the game so players can start getting paid.
The game has a special wild symbol and a bonus round. The wild symbol is none other than the golden ankh symbol. This icon will be able to replace any of the other icons that will land anywhere on the reels except the scatter logo of the game. It will replace the other icons in order to form a better paying combo for the players.
As for the scatter logo, it can trigger the free spins bonus feature which gives players a number of free spins on the video slot that come with a multiplier. The scatter logo can also give out scattered rewards when players get at least 2x scatters on the reels of the game.