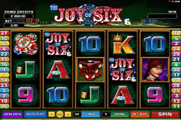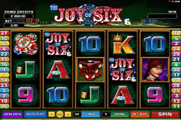 For fans of larger video slot games, Joy of Six Slot is a great game for anyone to take in. There are all sorts of different features, and as one of the most popular recent additions from Microgaming, it has several bells and whistles that are not found in older video slots. The resolution is top of the line and it makes sure that everyone is going to enjoy it. Now, it might not be for those people who like the smaller three reel, one play line games, but it is worth giving a shot even for them. They may discover they have found the very best free slots game out there.
For starters, the Joy of Six Slot is a five reel, 30 play line game. It is also a penny slot game, so it is possible to bet anywhere from a single penny per play line all the way up to one dollar per play line. This means a maximum bet on the game is going to sit at $30, which is not all that high, so it really is a nice way to play video slots without going broke. The top jackpot is 3,000 coins, which if the bet is a dollar it is going to pay out $3,000. The second highest payout is 2,000 coins, or a $2,000 payout. Not bad for a $1 bet.
Now, there is also a maximizer option, where it is possible to bet more coins per play line. While the maximum dollar amount per pay line is $1, this can be multiplied by five, which would max out the total dollar amount to $150 per bet. Of course, this also increases the possible payout to $15,000 as well.
When counting up winnings, only the highest payout is counted towards the payout. There are both scatter and wild symbols a player needs to consider while playing. The dice somber for the Joy of Six Video Slots game is the wild multiple game. This icon can be swapped with any other icon outside of the scatter icon and it automatically doubles what the payout is. In fact, the wild dice adds an additional 1x for the max payout every time it appears. This means if there is a wild dice jackpot with all five showing up, it is possible to win 6x what the general maximum is paid out.
In terms of the scatter symbol, this is the croupier. If three or more appear in one play, it brings up the free spins bonus round. When the free spin bonus round loads, the player is going to receive 15 free spins. During the spins, it activates a 6x multiple. So, due to this, if the maximum jackpot of the highest amount of $15,000 is won during the free spin, it is actually going to pay out $90,000. Of course, if it is a 5x wild dice in the bonus round, this is $540,000 in total winnings.