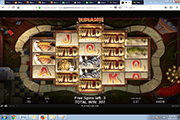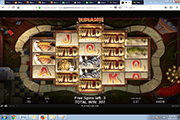 Jumanji Online Slot: Awesome Jumanji Magic Lands on Reels
Jumanji online slot by NetEnt captures the essence of a Zulu expression denoting a condition or element that creates multiple effects. Although released as an addition to one of NetEnt's branded contents, the game mechanics and special features are not at all related to any Jumanji films. Still, to develope and release a 36-payline game carrying the Jumanji title and Logo, NetEnt secured a license from Sony Pictures Consumer Products.
Once spins launch to move the reels and their elements, four (4) random features may happen to create multiple winning effects. During base game spins, Sticky Vines, Monkey Mayhem, Wild Stampede or Monsoon Wilds occur; spawning Sticky-Win Respins, Wild Reels, Symbol-Shuffles, or Add-on Wilds. If Jumanji online slot players get to play the Board Game, they may unlock Free-Spins Rounds constantly enhanced by any of those four (4) special features.

Jumanji Online Slot: Random Base Game Features
During or after a base game spin, any of the following may occur and create changes that result to wins:
Sticky Vines that entwine reel elements involved in creating at least two (2) payline wins on a spin. Vines hold all winning symbols in place, while the rest of the icons turn during a Respin. Free rolls continue for as long as returning reels produce more of the winning symbols. Vines will then spread to entwine and lock-in new winning elements.
Awesome even is that if Wild Symbols are in view, the Sticky Vines will likewise hold them in place. That is, even if the substitute icons are not part of a winning combo.
Monsoon Wilds are Wild Symbols brought on by Crocodiles trying to pass through 1 or 2 reels, while a spin is ongoing. The Crocodile subsequently leaves behind Wild Symbols enough to cover the reels through which they passed. Naturally, the Wild-filled reels improve the outcomes of the concluded spin.
Wild Stampede causes Wilds to rush in, when a crash of rhinos run across the reels. This random feature happens before the reels come to a stop, allowing the Rhinos to leave behind four (4) up to nine (9) Wild Symbols in different positions.
Monkey Mayhem is an occasional instance when a troop of Monkeys gather near the Jumanji online slot grid. Once the reels return with a set of symbols that nearly created a payline win, several monkeys will takeover. They will go under the reels and shuffle the tiles to organise winning combinations with certainty.
Jumanji Online Slot Board Game
Activating the Jumanji Board Game enables players to enjoy any of those random features as Free-Spins enhancements. The first step though is to land a spin outcome containing three (3) or more Jumanji Boxes.
A set of 3, 4 or 5 Jumanji Boxes correspondingly awards 6, 7 or 8 Dice Rolls. Board game players may land on spots that award additional rolls. They may even land on Coin Win sections, containing Cash Bonuses with values ranging between 1x and 5x the Total Bet.
Certain spots contain Mystery Prizes that may reveal 2x to 10x Total Bet Wins, two (2) additional Dice Rolls or a Free-Spins Feature.
The most exciting places on which to land a Board Token are near the corner spots. The four (4) locations represent four (4) different Free-Spins Bonus Features.
Game Board Free-Spins Bonuses
When a player's token lands on any of two (2) positions in front of a Free-Spins Corner, the corresponding Bonus Round sets off. Depending on the bonus round activated by the Token, one of the following four (4) Free-Spins Bonus Games kicks off:
Vines Free-Spins comprise ten (10) bet-free run of the reels that may lead to Respins. Here, the Sticky Vines feature activates if a bonus spin generates at least one (1) winning combination. Vines cling and lock-in all winning and Wild symbols for a respin. Respins recur if additional winning symbols turn up as outcomes.
As extra bonus, the Sticky Vines will hold all Wild Symbols in place throughout the Vines Free-Spins Round.
Monsoon Free-Spins will run the Monsoon Wilds Feature via a set of seven (7) Free-Spins. The Crocodiles though, are barred from covering the same set of reels with Wild Symbols, via two (2) consecutive bonus turns.
Stampede Free-Spins deliver the Wild Stampede feature by way of five (5) free games. On each free turn, Rhinos crash through the reels and leave behind four (4) up to nine (9) Wild symbols in random positions.
Monkey Free-Spins constitute six (6) Free Games in which the Monkey Mayhem feature transpires on every turn. Regardless of the outcome of a bonus spin, Monkeys shuffle symbols to create the most rewarding results.
Once a Free-Spins Round is complete, Jumanji Board Game players resume playing using the remaining Dice Rolls. However, any Free Round already activated during an ongoing board play, will no longer form part of the Bonus Rewards.