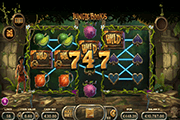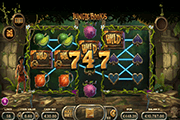 Jungle Books Online Slot: Five Different Reel Configurations Fused as a Single Game
Jungle Books is a 58-68 payline online slot built on five (5) different game boards; joined together to create an exciting reel-spinning adventure. Yggdrasil Gaming took inspiration from Rudyard Kipling's Jungle Book stories, using five (5) important characters as Host of each 5-reel grid. Every Host has two (2) special power-up features to add, to incorporate or to activate during a hosting engagement. Most of the time, a random character joins the Host as Guest. The latter likewise brings and adds an extra reel-enhancer as third win-boosting feature.
Join Mowgli, the young boy raised by wolves in the jungles of India. As the principal character, he is the first to appear as Host of a game board. After which, Mowgli's friend and adversaries take turns in bringing their special features to their respective set of reels. In addition, a Wild Symbol occurs in any reel or Jungle Books game board. The wild icon has potential to progress as Spreading Wild, as Stacked Wild Symbols or come around with a Wild-Win Multiplier in certain Jungle Books reel set.


An assortment of Exotic Fruit images appear as reel elements. A framed image of three (3) Pears comes around as highes-paying symbol. In fact, Yggdrasil dubbed this element as a Super High Pay icon; correspondingly awarding 50, 100, or 300 on a 3, 4, or 5-symbol combination aligned in a payline. Although the general rule observed is for a winning alignment to start from the leftmost column, some sets of reels evaluate wins coming from both leftmost and rightmost columns.
Jungle Books Online Slot: Mowgli's Game Board
Mowgli is the first to appear in a series of fused slot grids. The first two and the last two reels of his game board consist of three (3) symbols in each column. The third, or the middle reel contains four (4) symbols.
Throughout Mowgli's hosting engagement, the symbols held by the first two and the last two reels are synchronized. However, the synced icons held by Reels 1 and 2 are different from the set of synced images held by Reel 4 and 5. Actually, the Synced Reels are features exclusive to Mowgli's appearance. Yet In some game boards, in which Mowgli appears as Guest, the Synced Reels occur in different reels or groupings.
The second win-boosting element that occurs in Mogli's reels is the Spreading Wild. A Wild Symbol in view will spread and replicate into to one or two additional Wilds in a neighboring reel position.
Jungle Book Online Slot: The Tiger Shere Khan's Game Board
Shere Khan's game board is similar to Mowgli's. When this character hosts a Jungle Books game, any win activates a Sticky Win. A respin launches, while all winning symbols as well as all wilds in view, remain glued to their position during the free turn.
As second win-boosting element, Stacks of Wild Symbols will be added to Reel 3. If Shere Khan appears as guest in other reel sets, the Stacked Wilds may be added to a different column.
Jungle Books Online Slot: Baloo the Bear's Game Board
Baloo's Game Board is also similar to Mowgli's. During each spin, Baloo flashes an image, which when appearing as outcome of a related spin, will expand into a full reel Stacked Symbols.
The Bear's second power-up feature is a bonus game segment triggered via the Honeycomb icon. A Honeycomb in view activates a simple Pick-a-Bonus game that awards instant credits ranging from 50 to 50,000.
Jungle Books Online Slot: The Black Panther Baagheera's Game Board
Bagheera's slot grid comprise of 4-3-3-3-4 symbols in Reels 1, 2, 3, 4, and 5, respectively. In the Black Panther's set of reels, all Super High Pay Pear icons in view, transform into Wild Symbols. In addition, Win-Multipliers of x2, x3, or x5 will be added to the reels. Win outcomes occurring concurrently with a Win-Multiplier will then increase accordingly.
Jungle Books Online Slot: Kaa the Python's Game Board
Kaa's grid is also configured with 4-3-3-3-4 symbols in Reels 1, 2, 3, 4, or 5, respectively. Here, all identical images occurring as payline combinations will be evaluated for wins both ways; leftmost to rightmost reel and vice versa. A five-of-a-kind winning arrangement will likewise be considered as two (2) winning payline combinations.
Moreover, the Python comes with 3x Wild-Win Multiplier, which applies to payline wins that include at leat one (1) Wild Symbol.