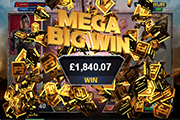 Justice League Online Slot: Feature Frame Turns Super Hero Symbols into Wilds
Justice League online slot by Playtech, takes inspiration from the 2017 Warner Bros. film. Featuring the six (6) Super Heroes comprising the Justice League team, the reels display actual movie images of Batman, Superman, Wonder Woman, Aquaman, Cyborg and Flash. They occur as top paying symbols, with Batman in the lead as highest paying icon. Built as 2-tile images, any visible segment of a JL Super Hero counts as an active reel element.
Yet the icon that awards the most coin credits is the JL Emblem, being a Wild Symbol that can form its own winning payline arrangement. Slot players will likely experience many fruitful encounters via the JL Wild, through the workings of the game's Feature Frame element. .
Justice League Online Slot: Feature Frame Facet
A Feature Frame is a tile-enclosure highlighting any image emerging at the bottom of Reel 5. The effects of the highlighted border vary, and depend on the game mode in which the Feature Frame transpires.
Base Game Feature Frame occurrences in Reel 5 is a random event. If it does appear, and at the same time land on a Super Hero image, all likenesses of the framed Hero will become Wild for the related spin.
Moreover, the reels launch a respin that may recur if the next free turn/s produce another framed Super Hero icon. The base game Feature Frame Respins carry on until such time when a turn does not produce a framed Super Hero; or until all League Members have experienced Wild transformations.
Free Games Feature Frame also comes into view in Reel 5. However, the effects vary and depend on the type of Free Games in play.
Justice League Online Slot: Free GGames
The Free Games set off when all three (3) Mother Boxes emerge as outcomes of a single spin. The number of Bonus Spins and Power-Up Feature comprising a round, depend on the Bonus Mode in play.
There are six (6) types of Bonus Rounds in all, each type represented by a Justice League member. However, if the feature activates for the first time during a play session, only The Flash Mode is available. The other types unlock in a specific order, one bonus round at a time.
On the second occasion that a Bonus Game activates, both The Flash and Cyborg Bonus Modes are available. The Aquaman Bonus Mode unlocks next, followed by the Wonder Woman, Superman and eventually the Batman Modes. Once all Justice League Bonus Modes have unlocked, a bonus round player earns the right to choose his or her Bonus Mode preference.
As it is, each JL Super Hero comes with a constant Feature Frame element, but with certain win-boosting variations.
The Flash Bonus Game awards 15 free-spins and simply offers the standard version of the Feature Frame attribute on every Bonus Spin.
The Cyborg Bonus Round comprises 12 Free-Spins. The number of Feature Frame elements increases, if the corollary Super Hero Wilds did not produce at least one winning combo. Extra Frame additions take place one reel at a time during a succession of non-winning bonus spins.
The Aquaman awards 10 Free-Spins. Here, the Feature Frame in place does not discriminate. The Highlighter turns into Wilds, any Reel 5 symbol and all its likenesses; except a Mother Box Scatter.
The Wonder Woman Bonus Mode awards only 7 bonus spins but is quite generous with its Feature Frame version, The round adds 1 up to 5 Feature Frames on every bonus spin; and any that encloses a Super Hero, turns that icon and its matches into JL Wilds.
The Superman Bonus Game awards 5 Free-Spins, whilst adding a Feature Frame in a colossal 2 x 2 dimension. Any Super Hero that lands on the highlighted area transforms all its likenesses into Wilds; but only for that particular spin outcome.
The Batman Bonus Type awards only 2 Free-Spins. Yet any Super Hero that lands on the Feature Frame, will turn all Super Heroes in view into Wilds.
In light of the high potency of the Feature Frames offered by the Superman and Batman Free Modes, only the Flash, Cyborg, Aquaman, and Wonder Woman Bonus Games may extend or retrigger.
When two (2) Mother Boxes of any kind are simultaneously in view, three (3) additional free-spins extend the free bout. Landing on a complete set of 3 Mother Boxes, sets off another round of the current Justice League Bonus Game.
Justice league ; Cool Feature Frame Transforms League Heroes into Wilds
Justice League online slot has a cool Feature Frame element that occurs at random during base plays but added as constant feature of every Bonus Game type. Even more awesome is that the Feature Frame Bonus attributes tend to vary, and each Bonus Mode variation makes the element more potent. Some Feature Frames occur in multiples, while another can transform any regular symbol into Wilds. The most potent is the Feature Frame that highlight a 2 x 2 area, and the frame that converts all Super Hero types regardless of which League Member appears highlighted.