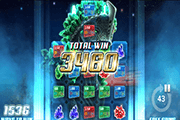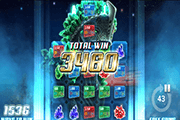 Kaiju Online Slot: Number of Win-Ways Can Increase to 7,776 via Expanding Reels Feature
Kaiju online slot presents an icon-matching game fashioned after popular Japanese monster-themed movies. This Elk Studios game starts out with 243 ways by which identical icons can land as winning combinations. Win-ways can later increase to 7,776 at the most, as the 3-row x 5-reel grid can expand with as many as 6 rows of symbols. To complete a win-way, 3 or more alike elements must align uninterruptedly in adjacent reels, starting from the leftmost column.
Although not necessarily counted as winning combos, Vertical Alignments even if not occurring in the same reel, initiate reel expansions. The latter, is a feature present in both base and bonus games. Every expanding action adds a Wild Symbol at the top of the reel, briefly increasing the height of a column. In the free round though, reel extensions remain in place until all free-spins have been played.
To make the free round more interesting, one of Elk Studio's Kaiju creations will be featured as a looming monster that must be defeated by a female character named HA-42.


Kaiju Online Slot: Bonus Game Symbol
Actually, HA-42 is the Bonus Game trigger-symbol. She initiates attacks against a random Kaiju by triggering the Free-Spins Bonus Game. Once her images emerge simultaneously in Reels 2, 3, and 4, HA-42 will attempt to destroy the monstrous creature.
Armed with Vertical Laser power that activates via Vertical Combinations, HA-42's Bonus Game Laser Weapon, has other special reel-enhancing effects aside from Reel Expansions.
Kaiju Online Slot: Battle Bonus Game
HA-42 triggers seven (7) Free-Spins with which to take on and destroy a Kaiju. Each Monster has certain weak spots, marked by the letters K, A, I, J and U. All of which are located above the standard 3 x 5 grid, usually in 4th, 5th, and 6th Row positions. This makes it necessary for Kaiju Battle Bonus players to land on Vertical Combos that can expand the reels. Achieving such tasks, enable HA-42 to strike all weak spots and replace them with Wild Symbols.
In the free-round, HA-42's Vertical Laser combos have additional powers that boost players' chances of raking in greater bonus wins.
One (1) Extra Free-Spin – Every Reel Expansion that transpires during free games, will also add one (1) Extra Free-Spin.
Enduring Reel Expansions – Unlike the Vertical Laser connections occurring in base games, HA-42's Free-Round Laser Power, locks reel extensions in place up to the end of the bonus game.
Symbol Replacements – A bonus game Vertical Laser combo that hits a Kaiju Weak Spot, will not only expand the column by adding a Wild. It will also turn into Wilds all other symbols held by the expanded reel. Once the results have been tabulated, the reel will revert to its original array of symbols.
Sticky Wilds – Wilds can become sticky until the end of the feature. Once Kaiju Bonus players succeed in hitting a final weak spot, Wild Symbols will likewise replace all elements held by the expanded reel. This time though, every Wild replacement remains in place through the remaining spins.
During Reel Expansion events, additional reel positions will also create corollary increases in number of win-ways. The number of available win patterns could grow to as many as 7,776 ways.