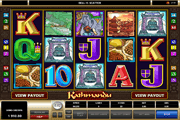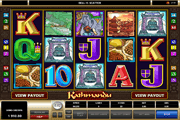 Kathmandu A Culture-Themed Nine-Payline Microgaming Video Slot
Kathmandu online slot by Microgaming brings slot players to the exotic Himalayas. It is a 5-reel, 9-payline slot that takes on as game title the capital city of Nepal. Its reel symbols represent elements found in an ancient part of the world, filled with historical artifacts, religious sites and mystical landscapes. This Kathmandu video slot has Wild and Scatter Symbols and Free Spins as special reel attributes; enabling players to make the most of an online gambling recreation.
The Prayer Wheel Wild
A Kathmandu wild symbol has the power to take on the form of any regular reel symbol. At the same time, the symbol could also form its own winning combination whenever two or more Prayer Wheel icons land on any active payline. The game pays 12, 200, 1000, and 6,000 in coins as prizes for spin actions that returned with two, three, four or five Prayer Wheels on an enabled payline.

The Bell Scatter Symbol
Whenever three or more of the Bell Symbol appear in any spot across the screen, a Kathmandu player receives 15 free spins. In addition, regular payline wins achieved during the free round could earn equivalent payout rewards in folds,  because the free game awards at random  special multipliers of up to 5x. Moreover, the appearance of two or more Bell Scatter symbols bring additional rewards ranging from one up to 100 coins.
The Kathmandu Free Spin Game
A set of Kathmandu Free Spin games has its own wild symbol represented by the Temple icon. This special Free Spin Wild not only substitutes for regular symbols in a free round, It also earns extra coin rewards from two (2) up to 750 coins whenever two or more Temple icons land on a payline.
The free round has the potential to go beyond the original 15 free spins, since the Bell Symbol could still emerge in groups of three or more. Such an occurrence results to additional free spin rewards. The value of the bet in play during a free game, follows the value of the bet placed on the spin that activated the original set of bet-free spins.
The Kathmandu Gamble Feature
Players who may be feeling lucky could stretch their lucky streak a little further by activating the game's Gamble Feature. The feature involves playing with card-color-and card-suit guessing games that pay double and quadruple, respectively. A player can gamble his or her current winnings but up to a certain limit. However, a Gamble Feature player should be aware that he or she could lose his entire winnings with one wrong guess.