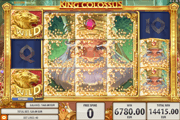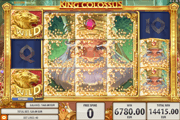 King Colossus Online Slot – Stacked Wilds and Massive Symbols Lead to Super Big Wins
King Colossus, is a 5-reel, 40-payline video slot furnished by Quickspin to online casinos. The game content seems standard as it simply offers Wild Symbols as win-boosters, and awards only five bet-free spins per round.
Slot players though will be amazed with the exceptional slot playing experience in store once they enter the Free-Spins Bonus Round. King Colossus, the game's highest-paying icon appears as a Massive Symbol, while every bet-free-spin produces Special Bonus Lion-Wild Symbols in Reels 1 and 5. Big Wins, even Super Mega Wins could happen during the round. The King Colossus Massive Symbol and Bonus Lion-Wilds work together to bring top-paying combinations and multiple-winning paylines!


King Colossus Online Slot – Lion Wild Symbols
This Quickspin real-money betting game has two kinds of Wild Symbols to offer as payline win-boosters.
The Regular Wild bears the front face of a Lion Head Statue. Aside from being usable as alternative to regular icons in order to complete matched-symbol payline groupings, the Regular Lion Wild can form its own winning payline combo. Awarding 5, 30, 100, and up to 500 coins, King Colossus slot pays correspondingly on the highest Wild Symbol combination of 2, 3, 4, or 5 of such symbols, lined-up in a payline.
The Special Bonus Wild Symbol bears the profile of a Lion's Head image and emerges only in Columns 1, and/or 5 of the Free-Spins Bonus Round reels. Each Bonus Lion poses as an Extra Wild Symbol, of which two or more are guaranteed to appear as outcomes after every bet free spin. Like the Regular Wild icon, the Bonus Lion Head Wilds may take the place of regular icons to complete the highest possible payline win/s.
King Colossus Online Slot Free-Spins Bonus Game
A trio of Bonus Scatter Symbols, adorned with an image of King Colossus' Palace, triggers the launch of five free spins comprising the Bonus Round. The round could even extend beyond the initial five bonus spins, since the bonus reels produce at random, a +1 Spin Symbol.
In this particular segment, bonus game players have great chances of hitting payline wins because of the guaranteed Bonus Wild Symbols that may appear as single-tile icons or as Stacked Wilds. That and the appearance of the Massive King Colossus Symbol, make it possible for players to end the round with a hefty sum as total bonus winnings.
The Massive Symbol appears only in the Bonus Game reels and specifically refers to the high-paying King Colossus image. It takes center stage as an enormous reel icon, as its massive size occupy the entire mid-section of the reels, specifically all three rows of Reels 2, 3, and 4. It can come into view as a full Massive Symbol, or at times only in part. Nonetheless, even if only a part of the Massive Symbol is in view, the portion displayed is still capable of completing a payline win.
King Colossus Online Slot Betting Option
The hugeness of the bonus rewards are proportionate to the bet amount staked on each payline or on every spin. Coin rewards received as payout for winning paylines are multiplied by the value of the coin staked on each spin. The choices range from 0.40 minimum up to 120.00 maximum per spin, which is equivalent to a minimum bet per payline of 0.01 up to a maximum of 3.00 per payline.