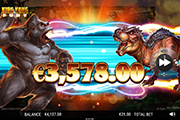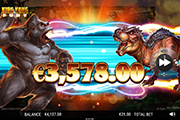 King Kong Fury Online Slot: Symbol Replacement Features Optimise Paid and Free-Spins
King Kong Fury is a 50-payline online slot from NextGen Gaming; requiring only 25 credits per spin to activate all pay diagrams.
Set in a background depicting the fabled Skull Island, the gigantic ape lords over all Beast elements, as Wild Symbol. A King's Call event randomly transpires, in which natives will be summoning the King of Skull Island to appear massively. Yet other Beasts may assert their significance as reel elements by way of the Lightning Reel Feature. Whichever of the two features transpires can lead to Big Wins. Colossal even, if both features take place via a single spin.
The more important aspect is that those win-boosting events may occur during free games. Notwithstanding that the bonus round also has Raging Respin feature. If the random events and respins are still not enough to boost winnings, it is possible to retrigger the bonus round several times over. Players will have plenty of opportunities to win as many number of extra free-spins possible in every free round.

King Kong Fury Online Slot: Wild Symbol
The King of Skull Island appears with much intensity as Wild Symbol; albeit taking positions only in Reel 2, 3, and/or 4. King Kong images are configured as Stacked Symbols that may land in full or in part in the centre reels. Any segment of the Stacked Wilds can act as substitute icon if to complete a winning payline arrangement.
The Monstrous Ape reigns supreme in this game. Players will experience the intensity of King Kong's substitution powers via the King's Call event, and thru the Raging Respin bonus feature.
King Kong Fury Online Slot: Random Win-Boosting Events
During or after any spin, whether paid or free, two special events take turns in enhancing the outcomes of the related spin. If a King Kong Fury player is experiencing a lucky streak, he or she may even land on an outcome simultaneously enriched by both features.
King's Call – An ongoing spin may reveal elements that will give natives a reason to summon the King of Apes. Dubbed as the King's Call event, the native's chanting will bring on one or more of the Ape's image. The feature adds up to a maximum of 12 King Kong Wilds to replace some of those produced by the spin.
Lightning Reel are two streaks of lightning forming a diagonal reel filled with Beast Symbols. A T-Rex, Triceratop, Snake, Pterodactyl, or Insect will then be selected arbitrarily from the Lightning Reel array. The special reel will then transfer up to 15 units of the selected Beast icon, in random positions across the grid.
King Kong Fury : King of Skull Island Bonus Round with Raging Respin
The Bonus Symbol carries the image of the conventional female character that can tame the famous King Kong fury. Two of those special icons landing simultaneously in Reels 1 and 5 initializes the King of Skull Island Bonus Round. King Kong Fury players who succeed in activating this round can win as many as 100 free games.
The Statues on each side of the screen, hold a range of values between 3 and 10. The numerals revealed after a Statue Spin will then multiply to produce the number of Free-Spins Rewards. Supposing both Statues land on 10, the game will award as many as 100 (10 x 10) free-spins to lucky players.
The great news is that the free bout may retrigger repeatedly via the same Bonus Symbol occurrences. Following the same procedure in determining the number of free-spins rewards, players can win as many Extra Free Games as they can possibly muster.
Raging Respin is an exclusive Bonus Round feature that makes each free session even more promising as source of Bonus Rewards. Every full stack of King Kong Wilds that comes into view triggers a respin. Meanwhile the stack of 4 King Kong Wilds remain glued to its current position. If the respin produces another full reel Stacked Wilds, it follows that another Raging Respin will set off.
Keep in mind that during bonus rounds, the King's Call and the Lightning Reel are still available. Those features will continue to occur even during a Raging Respin.