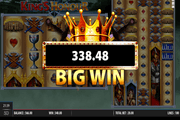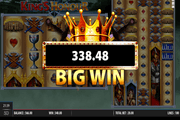 King's Honour Online Slot : As Many as 10 Win-Boosting Features Enhance Chances of Hitting Big Wins!
King's Honour online slot offers as many as 100 win-lines by way of 2 grids. One is a Standard grid comprising 5 reels with 4 tiers of symbols. The other is a Colossal 5-reel framework built with an array of 12 symbols in each column. Both sets of reels turn via a single spin to produce new combinations, but yield independent results. To help players land on as many winning combinations as possible, Barcrest incorporated 10 win-boosting features that can improve outcomes of a spin.
Three (3) of the special events may transpire during base play. Such events include duplication of Stacked Wild Symbols and of setting off Respins. The seven (7) other features occur at random during free rounds; involving different Wild Symbol Transformations and Symbol Upgrades, among others. The greater the number of Free-Spins activated as bonus play, the higher the chances of hitting wins boosted by all seven (7) bonus round features.
This game may run by way of 20.00 or 30.00 Big Bets, also covering all paylines but for a set of 5 successive spins. Big Bet plays yield greater payouts, since all reel elements apply Paytable Values higher than those awarded in standard games. Moreover, this betting option throws in a Nudging Wild feature and extra Bonus Symbols as additional win-boosting elements.


King's Honour Wild Symbol
The WIld Symbol of this game is the most dynamic win-boosting element to occur as outcome. Basically functioning as a joker card that can stand-in as eligible substitute for regular-paying elements, Wild icons may emerge as Stacked Symbols in any reel.
When a full column of Stacked Wilds land on one or more reels in the Standard grid, all Wild Reels in view replicate in the secondary Colossal Reels. Replicating Wilds transferring to a Colossal Reel expand to fully cover all 12 positions of a column. They replicate and expand in the same order as their Standard Grid positionings.
Several special King's Honour events can make Wild Symbols quite potent, including a base game feature that triggers a Respin.
King's Honour Base Game Random Features
The following events may arbitrarily transpire in both sets of Reels once all images settle as outcomes of a spin:
Siege Spin Bonus is a Respin event that may or may not transpire if:
* At least one full set of Stacked Wilds replicate in Colossal Reels. All Wild Reels in view thereafter, locks in place; while the non-Wild reels carry on with the Respin to yield a fresh set of symbol combinations.
* Two Bonus Symbols in place may launch a Respin of both reel-sets; giving players a second shot at unlocking the Reel of Honour Bonus Feature
King's Charge Bonus is a rare event that installs a Mystery Symbol to modify the outcome of a spin. The mystery element reveals a single type of icon that will populate reels horizontally, vertically or by way of large blocks.
The set of base game random features is only the tip of the iceberg, so to speak. Several other features may transpire during a bonus round. Still, players must unlock the Reel of Honour for a chance to advance to a Free-Spins Bonus Stage.
King's Honour Online Slot: Reel of Honour Feature
The Reel of Honour is a huge reel that spins to award either a set of Free-Spins or a Pot Multiplier Bonus. The number of spins vary, while the Pot Multiplier Bonus depends on the value of the current Total Bet.
Free-Spins Bonus Round
On any number of free-spins activated as bonus round, a single Wild tile in view in the Standard Grid will expand and replicate in the Colossal Reels. Moreover, one of the following bonus features may transpire in the Colossal Reels, once a Shield overlay appears:
Wild Arrows -This feature transforms several Colossal Reels Symbols into Wilds. At least 10 additional Wilds take position in the Colossal grid and will stay glued to their spot throughout a bonus bout.
Flaming Wilds also add a minimum of 10 Wilds to the Colossal Reels via symbol replacements. This time though, the additional Wilds lock in for a Respin feature.
Wild Reels Bonus is a Shield Bonus that changes the outcome of one or two Colossal Reels by replacing them with 12-tile high Wild Reels.
Black Knight Bonus is a Symbol Upgrade Feature that replaces all card suits in view, with a single type of high-win icon, or even with a Wild Symbol.
White Knight Bonus – This is also a Symbol Upgrade event; but uses only the top paying King and the Archer icons, as well as Wilds, in upgrading all card suits.
Colossal Reels Win Multiplier awards a 2x or 3x Win Multiplier that applies to any Colossal Reels winnings garnered by the related spin.
Extra Free-Spins – A random number of additional Free-Spins between 3 and 25, will be awarded.
Pot Multiplier Bonus
If a spin of the Reel of Honour lands on a Bronze, Silver or Gold signage, a Total Bet Multiplier of 50x, 150x, or 500x will be awarded, correspondingly.