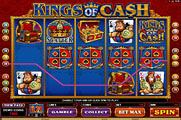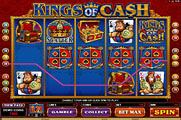 Kings of Cash Slot Game
Are you ready to take a trip to the Middle Ages? While there is no time machine available to help you do so, spending a little time in the medieval era is possible thanks to the Kings of Cash slot game. You might even be able to become a king yourself if you amass enough winnings.
Regal Design
Of all the free slots in the industry, the regal look and design of Kings of Cash definitely helps it stand out. Several fun and whimsical-looking kings (from a deck of cards!) are prominent symbols along with a very much desirable treasure chest. A coat of arms and, yes, a royal throne also reflect the various symbols.


Micrograming really went all out with the development of this slot. You truly do feel like you are a guest of the castle when you play the slot. As for the slot game itself, play time has much to offer.
Reels, Paylines, and Payoffs
Kings of Cash comes with 5 reels and 15 paylines and this creates a tremendous amount of variety in terms of the combinations that could turn up. The maximum bet per payline is 75 coins (with a maximum payout of 5,000 coins) so the use of the word "cash" is not employed frivolously. You really could amass a lot of cash upon hitting a winning spin.
Was it not said the word "cash" is pretty appropriate with this medieval slot?
If you are curious about the various combinations are going to deliver, just look up at the "View Pays" button. All the payouts based on the various symbols are presented in a clear, detailed manner. There won't be any ambiguity about what combos pay what amounts.
You are going to need at least three symbols that match in order to receive a payout. That's how this particular game works.
Freebies Galore
Speaking of spins, ample opportunity exists to procure free spins. You definitely want to take advantage of any free spin provided since you definitely want to stay in the game and hit the big jackpot. The total payoff on the jackpot is a generous $25,000.
The "Banner symbol" is what you want to look for when hoping to draw a few free spins. Once this turns up in the appropriate sequence, then you are going to end up with those vaunted free chances.
Try to make good with them because the Kings of Slots does pay well.
Be On the Lookout for the Scatter Symbol
Keep a keen eye on the arrival of the "scatter" symbol. This symbol engages a bonus round titled the Kings of Cash bonus. Once you hit this bonus, you may be on the path to winning a king's ransom.
Summary
Kings of Cash is a really fun game with the right combination of humor and solid payouts to make investing time on it worthwhile. Themes based on the Middle Ages are used a lot in slot games and this particular one does the genre proud.