User Rating: Be the first one!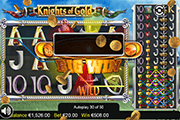 Knights of Gold Online Slot: Free-Spins with Multiplier; 2nd Chance Bonus Respin and, Guaranteed-Win Shield Bonus Feature
Knights of Gold online slot by Betdigital offers 100 paylines distributed in two sets of reels: a main 3×5 grid and a sub-grid comprising 12 rows of icons set in 5 reels. The two (2) frameworks run paylines independent of each other; heightening players' chances of hitting multi-payline wins on a single spin. Awesome even is that the sub 12×5 grid, rolls out stacks of 12-tile high identical icons.
Knights of Gold online slot awards guaranteed bonuses by way of a random Shield Bonus Game. The latter allows players to unravel as many Total Bet Multipliers as they possibly can, before they inadvertently select a blocker that ends the special feature.
The main bonus event is a conventional Free-Spins Round offering 5 gaming options. Each round differs in number of free-spins and win-multiplier. In addition, a bonus round may run with an extra win-boosting element. A player though has to choose a Pennant that unlocks an extra Bonus Feature aimed at optimising any type of bonus round selected.
The Knight's Castle is the highest paying regular-icon when landing as a winning combination. A union of 3, 4 or 5 Knight's Castle icons appropriately aligned as contents of a paying line, correspondingly awards 400x, 1000x or 2000x the value staked per line. Another element that can bring the same range of payouts is the Wild Symbol.
Knights of Gold Wild Symbol and Wild Replication Feature
Aside from having capability to act as completing or expanding component of one-of-a-kind alignments, a Wild Symbol can organise winning combinations on its own. A set of 3, 4 or 5 Wilds converging properly in any payline, also garners 400x, 1000x or 2000x the Line Bet.
Greater even is that Wild Symbols tend to appear as stacked elements in any reel of both main and subsidiary grids. In fact, a full stack of 3-tiered Wilds emerging in the main 3×5 grid, triggers the Wild Replication Feature.
Wild Replication Feature is a Wild Symbol attribute that embellishes the sub-grid with a full column of 12 Wild Symbols. A 12-tile high Wild replication, takes on a sub-grid reel position similar to that of the 3×5 Wild Reel.
Knights of Gold Online Slot Shield Bonus Game
Anticipate a spin outcome that delivers 3 or more Shield Symbols anywhere across the two Knight's Gold grids. Such an event spurs transition of the game to the Shield Bonus segment. This feature is a Pick Bonus Game that awards guaranteed wins.
The main grid undergoes transformation, displaying only Shield icons in all 15 grid positions. As players choose a Shield, they may reveal a 2x, 3x, 4x or 5x Total Bet Multiplier, or a STOP prompt. Every Total Bet Multiplier unraveled awards the corresponding prize.
Players may continue picking and unraveling as many Multipliers as they can before they inadvertently choose a Shield with a STOP prompt. The latter signals the end of the bonus game.
Knights of Gold Free-Round and Second-Chance Respin
A token displaying a Knight's set of weaponry represents the Bonus Game trigger-symbol. The icon though occurs only in Reels 2, 3 and 4 of the Main Grid. When all three designated reels return with a Bonus Symbol display, a set of Free-Spins with a corresponding Win Multiplier will be awarded.
Qualifying players are entitled to select any one of the following Bonus Game options:
• 30 Free-Spins with a x1 All-Win Multiplier
• 15 Free-Spins with a x2 All-Win Multiplier
• 10 Free-Spins with a x3 All-Win Multiplier
• 6 Free-Spins with a x5 All-Win Multiplier
• 3 Free-Spins with a x10 All-Win Multiplier
Prior to launching the Free-Round selected, a set of Pennants will be presented as Pick Choices. A Pennant may reveal any of the following:
Royal Symbol Wins Pay 2x – Payline wins constituting one-of-a-kind winning arrangements of a Royal Symbol (A, K, Q, J or 10) garner double pays.
Royal Symbols Removal – Free-Spins roll out on sets of reels that will not produce any Royal Symbol.
Wild with 2x Win-Multiplier – Wilds that will appear during the bonus round are configured with a 2x Multiplier; denoting that all winning Wild-completed combinations garners double pays.
Free-Spins Launch Instantly – A Pennant revealing this prompt, launches the selected Bonus Game without an additional Bonus Feature.
Second-Chance Bonus Symbol Respin
If only two of Reels 2, 3 or 4 return with a Bonus Symbol display, the reel without a Bonus Symbol display respins. The free roll aims to give players another chance for landing a 3rd Bonus icon that will unlock the Free-Spins Bonus.
Knights of Gold : Free-Spins w/ All-Win Multiplier and Maybe More!
Knights of Gold online slot awards bonuses by way of Bonus Rounds that roll out free-spins enriched by a specific All-Win Multiplier. Bonus Game players may even trigger an extra bonus feature that enhances spin outcomes. The base game also has a random Bonus Feature that awards guaranteed wins via a Pick Game that unravels Total Bet Multipliers.