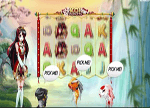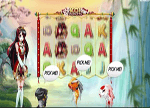 Koi Princess Online Slot Review
Koi Princess is the brand new, much anticipated online slot from Net Entertainment. This five reeled online slot game has twenty generous pay lines, and has beautiful graphics and a beautiful theme. Unlike many other games, which are released first for a desktop computer then later in a mobile version, this game was released in a desktop and a mobile form simultaneously.
The game's theme, as may be assumed by the title, is a Japanese theme. While many game developers put the majority of their efforts in the symbols, this one goes above and beyond. The symbols are beautiful, of course, but there is also very quiet, soothing Japanese music playing in the background as well, which is quite the change from the more typically found casino sounds.


Playing Koi Princess
Koi Princess has many different features, some that you may have come across before in just about every other slot game, but it also has some more unique ones that really help this slot game stand out. The most unique one is the Random Feature. This is the trigger for their bonus game, and gives the player the opportunity to control which bonus game they will play. There are four different bonus games available, each with their own special win. Each of them give you one spin, and some kind of guaranteed win.
There is also another bonus game available after the Random Feature as well. In order to get to this bonus game, you will have to get three bonus symbols, but they also must be on the first, third, and fifth reels. There is also a nudge feature that can help you out if you get just two of the three necessary bonus symbols, although it is not a guarantee. This bonus feature gives you the chance of Free Spins, a coin bonus, or a three-tiered bonus wheel.
Koi Princess also has a jackpot available, but you are only eligible to get a chance to win this if you make it to the third level of the bonus wheels. Land on the Jackpot Coin Win, and you will be able to get at least twenty-five times your initial bet, with the maximum win available as one thousand times your wager. With all of these various special bonus features, it's easy to see why Koi Princess is going to be a very popular game, and one that you will keep coming back to play time and time again.