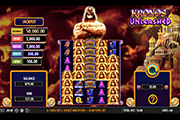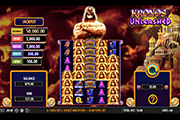 Kronos Unleashed Online Slot : Powerful Kronos Icon Unleashes Might in All Game Modes
Kronos Unleashed online slot presents the powerful Titan Leader as a high-impact symbol that brings awesome wins in any of three (3) game modes. WMS/SG Interactive set up 60 paying lines within an 8×5 grid, on which standard paid and free-spins may land wins. When the Kronos icon activates the Respins Mode, a compelling Power Up Symbol may increase the number of paylines to as many as 100.
Kronos' striking image, is already influential as it is. Three (3) or more of this icon can complete a winning combination both ways; leftmost to right or rightmost to left. Usually appearing as stacked images in a single reel, a heap of Kronos Icons can activate the Respins Mode. The latter carries on via a special grid that contains only Kronos and Power-Up Tokens The results are bound to be rewarding, since the titular symbol is the highest-paying element: awarding 1x, 2.5x, or 12.50x the current Bet.
Another important Respin occurrence is the activation of the Jackpot Game. The prizes in store include a Mini, Minor, Major, Mega and Kronos Jackpot.


All other regular-paying elements though must start their alignment from the leftmost reel when organising a winning arrangement. Nonetheless, Stacked Wild Symbols may appear in any reel; heightening chances of completing payline arrangements by acting as alternate icon.
Kronos Unleashed Online Slot: Lightning Respins
A paid or free spin that generates a stack of at least six (6) Kronos images in Reel 1, sets off three (3) Lightning Respins. Once this feature is on, Reel 1 will display a full-reel image of the mighty Titan. This feature may change the colour of the Kronos icon, by randomly selecting between Gold, Red and Pink Kronos images.
The Titan is already the highest-paying symbol; but the payouts can still increase during Lightning Respins. If the random selection will place a Red or Pink Kronos Symbol in Reel 1, all Kronos icons occurring thereafter will be in the same colour motif. In addition, Kronos combos will garner upgraded rewards.
Lightning Respins take place in a special grid that unleashes only Kronos images and Power-Up Symbols. The full-reel Kronos image and all emerging likenesses of the Titan, remain in place throughout the brief bonus bout.
Moreover, a minimum of (1) Kronos icon emerging after a free roll will bring an additional Lightning Respin. As guaranteed bonus, a qualifying player receives an instant cash prize equal to 1x the Total Bet.
Lightning Respins Power Up Symbols
Initially a Yellow Power Up Button appears to signal the unlocking of a Red, Blue, Green or Purple Power Up Symbol.
Red Power Up activates the Jackpot Game that awards one (1) of 4 Jackpots with certainty. The Jackpot Bonus awarded will then be displayed on the reels until the end of the respins feature.
Purple Power Up – This win-boosting element adds an additional row of Kronos Symbols at the bottom of the grid. Each expansion will likewise add 10 additional pay diagrams.
Green Power Up – When this icon unlocks, the active Kronos Symbol will upgrade based on a specific order; resulting to higher payouts. A Yellow Kronos may upgrade as a Red Kronos; while a Red Kronos can upgrade as a Pink Kronos.
Blue Power Up – If this Power Up icon takes up a grid position, all open spaces around it fills up with Kronos icons.
Throughout a Lightning Respins bout, the Red, Purple and Blue Power Up Tokens may appear up to a maximum of four (4) times. Owing to the nature of its feature, the Green Power Up Button can only transpire up to two (2) times.
Lightning Respins may also occur during Kronos Unleashed Free Games.
Kronos Unleashed Free-Spins Bonus Round
A scattering of 3, 4 or 5 Free-Spins Bonus Icons automatically awards 1, 2 or 5 free games, respectively. The number may still increase, in light of the Kronos Unleashed Boxing Feature.
The Boxing Feature aims to increase the number of free-spins rewards. Here, a frame encloses the area covered by the triggering Scatter Symbols. The Boxed positions will then contain the Free-Spins Bonus Symbols plus one or more +1 Tokens. The sum of the Free-Spins awarded initially, and the aggregate number of +1 Tokens, will then comprise the Bonus Round.
At the onset of this free feature, participating Kronos Unleashed players receive an instant cash prize equivalent to 5x the Total Bet.