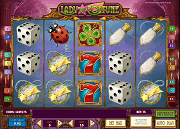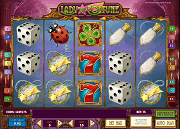 Lady of Fortune Online Slots is a five-reel, 15 pay line slot game. The theme of the game is around a lady that brings good fortune to those who play the game. At the start of the game, a beautiful lady can be seen, and she boasts two crystal balls in each hand. No need to wait very long, as the game gets right to the reels very quickly.
There are many lucky symbols in the game, and they all have to do with the many superstitions about luck. Symbols in the game include, a ladybug, dice, a rabbit's foot, a four leaf clover, a shooting star within a necklace, a horseshoe, as well as the number seven.
The wild symbols within the game are multipliers, which are 2x's, 3x's, 4x's, as well as a 5x's symbol. These symbols will substitute for any symbol in the game, except for the bonus symbol, which is the fortune lady. In order to trigger the bonus, a minimum of three ladies of fortune are required. While in the bonus game, one of the symbols must be chosen, in order to reveal the win amount. It's possible to win up to 150x's the total bet amount, which can be a very high payout, for those who are playing.
The symbols within the game have different denominations of payout amounts, and the lowest amount is 75 coins, if five dice symbols are received. The ladybug pays out 100 coins, the rabbit's foot pays out 125 coins, and the star symbol necklace pays out 250 coins, if five of the symbols are received.
The higher-paying symbols are the horseshoe, which pays 500 coins, the four leaf clover pays 1000 coins, and the number seven will pay 2500 coins, if five of the symbols are received. Lady of Fortune Online Slots has a potential for a high payout amount, but the amount of the bet is what will determine how much the player will win in the game.