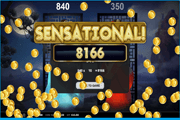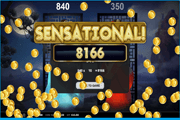 Lady of the Moon Online Slot: Scatter Icon Awards up to 3300 as Instant Bonus Win
Lady of the Moon is a 13-payline online slot by Pragmatic Play that depicts an ancient Chinese folklore about a fabled moon goddess known by the same title. Three rows of images associated with the tale, are set in 5 reels as playing field in which 13 paylines are configured. The image of Lady Tschang O, believed to be the Lady of the Moon, appears as the highest paying image. Coin wins awarded for this totem range from to 13 up to 13,000, on as few as 2 or as many as 5 identical images. Prince Hou 1, the folk hero who shot down 9 suns in order to stop the enduring heat and brightness brought by 10 suns that rose all day and all night long, is the second highest paying icon.
A Tree Scatter icon, symbolizes the Cassia Tree with a foliage so abundant that it overshadowed the luminescence of the moon. The Tree Scatter furnishes opportunities for landing a round of bet-free-wins. The icon with images of Herb Leaves, represents the Scatter Symbol awarding special Bonus Rewards of up to 3,300 coin credits. The leaves are the Herbs of Immortality bestowed to Prince Hou 1 as reward for his feat; but was subsequently partaken by his wife Lady Tschang O, which led to her transformation as Lady of the Moon.


Lady of the Moon Online Slot: Wild Symbol
In both base and bonus game modes, an illustration of a darkened Moon poses as the Wild Symbol that boosts players chances of landing on regular payline wins. The Moon icon may appear foreboding, being the only image presented in grayscale colors. Yet once this image lands aligned with identical images in the same payline, a paying combination can be formed.
Lady of the Moon Online Slot: Free Games
The Cassia Tree Bonus Game trigger-symbol appears only in Reels 1, 3, and/or 5. When all three designated reels return after a paid spin with a display of the Cassia Tree Bonus icon, 13 Free-Spins will be awarded. The bonus round carries on with the same game mechanics and reel elements, including the Herb Leaves Scatter icon that awards instant Bonus Wins. In the free round, this special symbol could bring as many as 3,300 in instant Bonus Prize.
Lady of the Moon Online Slot : Herb Leaves Scatter-Win Feature
Once three (3) Herb Leaves totem simultaneously hit the slot screen after a paid or free-spin, a game panel will present an image of Lady Tschang O in her Earth form and as Moon Goddess. Both pictures come with a mystery prize, which will be revealed and awarded as instant Bonus Reward, once a player selects one as Bonus Pick.