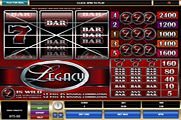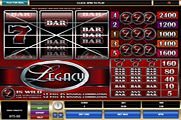 The Legacy slots demo has 3 reels but instead of the one middle payline that most classic slots offer, it offers players 5 different paylines that they can place their bets on. Players can place their bets through the betting panel that is located at the bottom of the game's screen. Players will find two different wagering options that they can go through. The first one is the number of coins that they want to place (from 1 to 5) and the second one is the value of the coins (from 1 to 50 credits). Players can also place the maximum bet possible by clicking on Bet Max. This will place the biggest bet and it will initiate the game and spin the reels.
The game has every aspect of classic and traditional slots, starting from the classy and classic theme that is presents in beautiful red and black colors, to the gaming format and symbols. the game has 3 reels with a total of 5 bet lines, which is the maximum number of lines players can find at a classic 3 reeled game.

The reels that appear on the reels of the game include red sevens, bar symbols and The Legacy Logo. All of the symbols and the entire interface of the game are dominated by royalty colors, red and black. The game also has a special symbol, which is the Legacy Logo. This logo is a wild icon, which means that it will be able to replace any of the other symbols on the reels and lines of the game in order to help them claim a prize by forming a winning combo the wild icon also has the ability to stand in for different icons on the different lines to create a winning combo on each line if possible, depending on the other icons on each line. That is not all what the wild icon is going to offer players, as whenever players manage to get one wild symbol in a winning combo will have the winning multiplied by a 2x multiplier and if they get two, the winnings will be quadrupled. If they get three, they will hit the jackpot of the game, which can amount up to 2400 coins, depending on the number of coins they placed. Therefore, players should always be placing the biggest so they can claim the jackpot pf the game, and higher payouts if they manage to match any of the other icons.