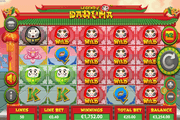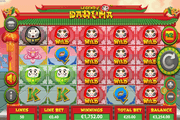 Legend of Daruma : Popular Japanese Good Luck Charms Enhance Reels with Win-Boosting Wild Features
Legend of Daruma is a 50-payline online slot by Leander Games, to which chances of hitting wins get a boost from different Wild attributes. Traditional Japanese Daruma good luck dolls occur as reel elements in a 4×5 grid. Two (2) of which are Wild Symbols that possess distinct win-boosting characteristics. Moreover, they pose as highest paying icons; awarding substantial returns when their images organise as a one-a-kind combo. Test
The Red Daruma Doll is the Regular Wild. On some occasions, it pops up as a Daruma Tower; subsequently yielding a stack of Wild Symbols in the reel in which it appeared. Another random feature that adds additional Red Daruma Wilds, is the "Fireball Feature." A ball of fire may emerge and spread out flames across the grid; whilst turning several random reel positions into Red Daruma Wilds.
The Gold Daruma Doll, on the other hand, is a Riding Wild. As such, it remains in view but shifts positions until it goes out of the grid. The great news is that every position shift transpires via a Respin. Any winnings garnered on each Respin, counts as additional earnings of the spin that produced the Gold Daruma icon. Gold Daruma Dolls become more potent during free rounds. Once a Gold Daruma lands as outcome, the image expands, triggers respins, whilst traveling gradually out of the grid.


Red and Gold Daruma Wilds share the same range of payouts, but cannot substitute for each other. A three, four or five-a-kind payline combo composed of Red Daruma Wilds or Gold Daruma Wilds, respectively earns a payout equal to 50x, 250x or 500x the Line Bet.
Legend of Daruma : Random Win-Boosting Wild Features
Both Red and Gold Daruma Wilds can drive big wins to random spin outcomes, if any of the following Win-Boosting events transpires:
Fireball Feature – This event depicts the annual tradition of burning Daruma Dolls at the temple from where a Daruma good luck charm was purchased. Here, a Fireball shoots up from the bottom of the grid, spreading flames to different reel positions. Once the flames die down, several Red Daruma Wilds take on positions to replace random symbols; heightening possibilities of hitting multiple payline wins.
Pop-Up Wilds are multiple Red Daruma Wilds placed by a Daruma Tower that springs up from the bottom of one or more reels. Every towering figure in view, changes form as Stacked Wilds in the reel in which it popped up.
Riding Wilds are the Gold Daruma Dolls that stay on the grid and trigger Respins. The number of Respins that follows, depends on the number of times it takes for a Gold Daruma Doll to shift positions, until it goes out of the grid via the leftmost border.
Legend of Daruma Free-Spins Bonus Feature
A round of free games roll out whenever a scattering of Dragon Free Spins Symbols are in view. When 3, 4 or 5 Dragon images spread out to different positions and settle as final outcomes of a paid spin, 8, 12 or 16 Free-Spins will activate as bonus round. Dragon symbols though will no longer appear during free rolls; eliminating any possibility of setting off another bonus bout in that particular session.
Nevertheless, the Legend of Daruma lives on, as the random Wild Features may still transpire, especially the Gold Daruma Riding Wilds.
Free-Spins Gold Daruma Riding Wilds are different. They tend to expand in the reel in which they emerged. Wild expansions though vary in number, as they depend on the number of Dragon Symbols involved in activating the bonus game. A set of 3, 4 or 5 Dragon icons, correspondingly increases the height of a Gold Daruma Wild by up to 2, 3 or 4 reel positions.