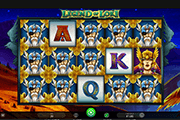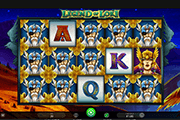 Legend of Loki Online Slot: The Trickster God Awards Random Bonus Features for Real
Legend of Loki online slot by iSoftbet offers 20 paylines, built in a 3 x 5 grid. Reel elements draw inspiration from Old Norse mythology, showcasing well-known Aesir Gods. Loki, being the titular character, is the highest paying icon; awarding 10, 100 or 500 coins on a set of 3, 4, or 5 Loki images converging as a payline win.
On any spin, Loki will demonstrate his power. He may create or add elements that ensure players' chances of striking a win. Multiple Wild Symbols may be summoned to take random positions across the play area. On any losing spin. a storm may hit the reels and create changes that will bring positive results. One of Loki's powers is to activate a respin, which triggers if a complete set of Stacked Symbols lands on Reel 1.
In free-spin rounds, Loki's power over the reels will carry on via a special symbol. At the end of the free bout, the special icon may nearly cover, if not entirely fill, the bonus grid.

Legend of Loki Online Slot: Loki's Random Bonus Features
Three significant events may transpire to produce a bonus win. The following could boost a player's bankroll, or at least allow him or her to recover some losses:
Wild Strike – Loki's powerful Scepter appears and randomly strikes at multiple reel positions. Wild Symbols will then replace all icons struck by the Scepter.
Storm Shower – A losing spin may have a complete turnabout if a Storm hits the reels by chance. Bolts of lightning will destroy a number of reel elements and replace them with a single type of identical element. This feature comes with a 100 percent guaranty of producing a winning outcome.
Stacked Respins – A spin that lands a complete set of Stacked Symbols on Reel 1 activates this Respins feature. During the free turn, the Stacked Symbols will remain in place. If the respin produces one or more of the stacked elements, another respin launches. The free rolls continue for as long as the outcomes produce another matching icon; or until the matching element fills the entire grid.
Legend of Loki Online Slot: Free-Spins Round
Bet-free rewards are forthcoming, once three or more Bonus Scatter Symbols land simultaneously via a single paid spin. Legend of Loki slot players have 10 free opportunities to rake in significant bonus winnings. After all, this is the segment where a special symbol will be selected as principal pay-booting element. The array of totem-choices though does not include the Wild and Scatter icons.
In addition to free-spins, a Bonus Symbol combination also awards a Scatter Pay. A scattering of 3, 4 or 5 on display across the bonus grid, garners a reward equal to 3x, 5x, or 10x the Total Bet.
During the free bout, the Special Symbol locks in place every time it emerges as outcome of a bonus spin. Once locked-in, they remain glued to their respective position throughout the free round.
The Bonus Symbol is not an active element of the bonus grid; eliminating any chance of retriggering another round of bonus turns.