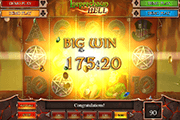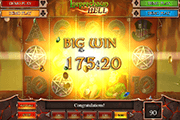 Leprechaun Goes to Hell : 2 Wilds, 2nd-Chance Respin, 3-Reel Free Games and 5-Reel Bonus Round
Leprechaun Goes to Hell is a PlayNGo online slot built with 25-paylines for a regular 5-reel play. The game's Leprechaun character seems to be in his best elements in an infernal background. Perhaps trying to impress a She-Devil who goes by the name Evilene, the Leprechaun plays host to a round of 3-reel Infernal Free-Spins activated by Evilene.
In the standard 25-reel game, Evilene and the Leprechaun forms a rewarding partnership by acting as dual Wilds. At the same time, the gorgeous she-devil possesses the attribute that gives players access to the 3-reel Infernal Free-Spins Round. Fortunately, the Leprechaun Goes to Hell with his Pot of Gold. The special icon is significant, being the symbol that activates a round 5-reel Free-Spins w/ a complementary Progressive Multiplier.


Leprechaun Goes to Hell Online Slot: Wild Symbols
Both the Leprechaun and Evilene are capable of substituting for regular paying icons for purposes of completing any of 25-pay patterns. The Irish Elf takes position in any reel, while the She-Devil emerges only in Reels 2, 3, and 4. If by chance both Wild icons take part in completing a payline win, the payout for that particular event, doubles.
The two (2) Wild characters can also land as matched contents of a payline and form a winning combination. The longest of a two, three, four, or five grouping of Leprechau/Evilene images occurring as payline win, awards a cash prize valued at 3x, 30x, 300x, or 3000x the Line Bet.
Evilene Extra Win-Boosting Powers – Any 5-reel spin that puts in place 3 Evilene icons in Reels 2, 3, and 4, will set off the Infernal Free-Spins Bonus Round. Now if only two of the three center reels return with an Evilene icon, a 2nd-chance Respin will be awarded. That way, players of this Leprechaun Goes to Hell slot, will have another go at activating the Infernal Free-Spins Round.
Leprechaun Goes to Hell : Infernal Free-Spins Bonus Round
This segment plays on a 3-reel, 5-payline slot, featuring the Leprechaun as a solo-performing Wild Symbol. Evilene initially awards 10 free-spins; but the 3-reel free play extends every time a Heart Symbols comes into view. That is because each Heart icon adds 1 Extra Infernal Free-Spin to the remaining round.
The Leprechaun awards the highest pay if the Dwarf's image forms a winning payline. Three Leprechaun icons aligned in any of 3 horizontal lines or of 2 diagonal lines award 100x the Line Bet as payout.
Take notice of the Jackpot Meter manned by the Leprechaun. Every win causes the temperature to rise, which also promotes an increase of the Jackpot Level currently at stake. The great news is that the Jackpot Meter does not reset, even if a player succeeds in collecting the prize money of lower level Jackpots.
As long as a player still has Infernal Free- Spins to use, the Jackpot Meter continues to rise to the highest prize level possible. The Extra Infernal Free-Spin added by the Heart Symbol therefore, increases players' chances of winning more than one, if not all Jackpots.
Infernal Free-Spins triggered by High Value Bets also heighten chances of reaching higher Jackpot Levels at a faster rate. The greater the Payout value of a win, the higher the level increment.
Leprechaun Goes to Hell : 5-Reel Free Games
Three Pot of Gold icons, landing on any positions via a single spin, activate 10 Free-Spins and award an instant bonus equal to 3x the Total Bet.
This is the standard 5-reel Bonus Round, which means the Leprechaun and Evilene continue to act as dual Wild Symbols. They will also carry on with their special win-boosting powers, either as Wilds or as Wild-Bonus Symbol.
Still, the Bonus Game Board is special because it includes a 2x Multiplier that doubles every win achieved during the round. The 2x Multiplier increases by 2, if at any instance during the round, another set of 3 Pot of Gold occurs as spin outcome. No additional Free-Spins though will be awarded as round extension.