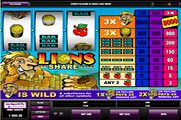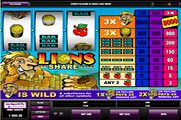 Lions Share Free Slot
The Lion is the king of the jungle, and this is why he is the richest animal there is who hordes all of the gold to himself. So if you want to claim your share of the lion's gold, then spinning the reels of this classic slot machine is the way to do it. This is because once you place the bets and spin the reels of the game, the symbols will start forming combos that will enable you to claim great rewards from the lion's share of gold.

Placing Wagers at the Free Slot
Players can place their wagers at the bottom of the reels by going through the game's available betting options. These options are the value of the used coins which varies between 0.25 and 25 credits per coin. Players would also choose whether they want to place 1 coin, 2 coins or 3 coins on the payline of the game. This will create a wagering range that starts at 0.25 and ends at 75 credits. Right above the wagering options of the game, players will see the logo of the game and the big lion surrounded with all of his golden coins and his treasures.
This game has 3 spinning reels and one middle payline that players will have to form winning combos on. In order for players to create a winning combo, they will have to get 3 matching symbols on the payline. The different symbols that spin on the reels of the game include the lion himself, bar symbol and red cherries.
Since the game is all about the lion and his fortune, he represents the highest paying symbol of the game. This is why whenever players get three lion icons on the payline of the game, they will be able to win a payout that is equal 2000, 4000 or 8000 coins if they placed 1 coin, 2 coins or 3 coins respectively.
The lion is also the game's special symbol as it has the ability to substitute for any of the other icons on the payline of the game in order to help players in getting paid by forming a winning combo of three matching icons on the payline. That is not all, as when the lion appears on the payline, it will double the regular payouts by 2x if one lion symbol appears, and by 4x if 2 of them land on the payline.