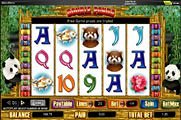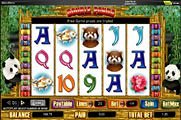 Little Master Free Slots Game
So if you are a big fan of Asian action movies that involves a lot of fighting such as Jackie Chan and Jet Li movies, then you will certainly love this game. The game has a total of 5 reels and it offers you 25 winning lines that you can place stakes on. The theme of the game dominates every single aspect of the game. For example, once the game loads, players will quickly enjoy hearing the classical martial arts themed music with bells ringing in the background.
Apart from the background soundtrack, the theme is also apparent in the background of the game as they will see Chinese hot air lamps with Asian symbols and an Asian temple on a high hill. When it comes to the reels themselves, the symbols include Samurai swords, ink and paper, ancient scrolls, pots of rice, a kung Fu pig, a temple, fist breaking bricks, a river and more.
[/CBC]

Placing Stakes at the Free Slots Game
Placing bets is made easy as players will only go through two options to specify how much they want to place in wagers on each single spin. These two options are the number of winning lines that players wish to activate and the second one is the value of the coins used. Players will then click on spin and watch the symbols as they spin and form winning payouts. Players can also click on the Bet Max button to place the biggest bet and they can also use the auto spin function. This function give players the ability to place a wager and specify a number of spins, players can select up to ninety-nine spins.
Players who want to see how much they can earn and what are the symbols they need to get to earn these payouts can do that by viewing the games payout table. This table can be opened when players click on the Paytable button.
The game comes packed with 2 wild symbols that can substitute for other non bonus symbols. The first symbol is the Little Master which can only appear on the 2nd reel and the Grand Master which can only appear on the 4th reel. Apart from helping players form winning combos, a special bonus game called the Grand Master Challenge Bonus Round is triggered when they appear on their respective reels at the same time. Players will then witness an epic standoff between the master and his student.
The scatter symbol is the hand breaking the bricks. This symbol is responsible for triggering the Challenge bonus feature, this happens when 3 scatters land anywhere on the reels. Apart from that, it also pays players in scattered multiplied rewards when they get at least 2 scatters.
The Little Master slot also comes with a gamble feature that gives players the chance to double up what they have won by wagering them on a game of luck.