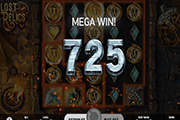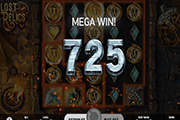 Lost Relics Online Slot: Cluster Win May Bring On 1 Up to 5 Random Features to Increase Winnings!
Lost Relics online slot by NetEnt runs on a 5×5 grid in which alike symbols need only to form a cluster in order to generate payouts. Here, six or more identical images joined together vertically and/or horizontally, account as a Cluster Win.
Payouts are based on the coin credits prescribed for the clustered images in the Paytable. It is possible for a spin to land on more than one Cluster Win of the same symbol or of another icon, via a single roll.
The payout of a winning spin, may yet increase if the win-event triggers one or more of three (3) win-boosting features. If so, all symbols constituting a Cluster Win temporarily disappears; giving way to certain elements that will bring additional pays. Such elements include Extra Wilds that can create additional Cluster Wins; or a Lion Token that awards Instant Coin Wins.
A Scatter Symbol may also turn up to increase chances of activating the Bonus Round. Setting off the Bonus Round brings the most rewarding increments. In the bonus game grid, a Treasure Chest lies hidden behind reel elements. The chest contains valuable elements such as Extra Free-Spins, Sticky Wilds and Coin Wins. Once the full image of a Treasure Chest unravels, all contents will be awarded.

Lost Relics Online Slot: Special Random Features
After any winning spin, symbols comprising a Cluster Win disappear temporarily. Such an occurrence initiates the placement of a Lion Token, of Extra Wilds and/or Scatter Symbol/s
Lion Token – This icon actually represents a CoIn Win that awards a cash value ranging anywhere between 3x and 30x the Bet. The original winning symbol replaced by the Lion Token still forms part of the winning combination during appraisal of all current winnings.
Extra Wilds – Up to three (3) Extra Wilds will be placed in any of the open spaces. If a player receives three (3) Extra Wilds as bonus, the event adds either a Lion Token or Scatter Symbols as additional bonus. In fact, the Lost Relics info states that the reels may attain a display of up to 15 Wild Symbols as corollary outcome of a single Extra Wilds feature.
Scatter Symbol/s – One or more Scatter Symbols may come around and take on an open position. If the Scatter addition completes a win, the Lost Relics Bonus Round triggers. The winning symbol previously occupying the position taken on by the Scatter, still forms part of the original winning combination.
Lost Relics Online Slot: Free Games
Scatter Symbols setting off the Free-Spins Bonus Round take positions only in Reels 1, 3 and/or 5. When all three reels return after a spin with a Scatter display, 10 free games will carry on. However, if Extra Scatter icons are to occur as random bonus feature, they may land on any reel.
In a round of free games, three (3) types of Treasure Chest icons may be revealed by winning symbols. During the round, components of a Cluster Win are likewise temporarily removed from the board; albeit still forming part of the original Cluster Win.
This time though, the removal of the winning elements may reveal a hidden Treasure Chest; either partly or entirely. If only a portion unravels, the remaining parts may be revealed via forthcoming bonus spins.
Treasure Chests
The bonus game grid may reveal one of three (3) types of Treasure Chest: Small Metal Chest, Medium Silver Chest and Large Gold Chest. A full display unlocks the box, releasing and/or adding all its win-boosting contents as bonus game rewards.
Small Metal Chest occupies 2 layers of a random reel (2×1). Once this Treasure Chest is in full view, one (1) Extra Free-Spin will be awarded. At the same time, it may bring on any of the random bonus features, and/or one (1) Sticky Wild.
Medium Silver Chest – This box occupies 2 rows of 2 adjacent reels, whilst containing 6 up to 10 of random bonus features plus 2 Extra Free-Spins. It may also award two (2) Sticky Wilds to the grid.
Large Gold Chest – This box is the largest among the three (3) Chest types, having a 3×2 dimension. When this Treasure Chest unlocks, it will bring on 11 up to 15 of the random bonus features, three (3) Extra Free-Spins, and may even throw-in three (3) Sticky Wilds.