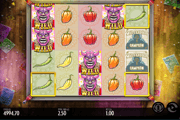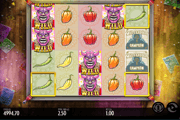 Luchadora Online Slot: Lucha Libre Slot Events Award Wilds, Instant Wins or Bonus Game Entry!
Luchadora by Thunderkick takes on as theme, the popular Mexican professional wrestling sport called Lucha Libre. In this 30-payline online slot, icons of four (4) Wrestlers (Luchadores), named El Toro, El Rayo, El Serpiente and El Pantera compete to take hold of Ring Corner Positions. A Luchador symbol that succeeds in claiming any of the grid's four (4) corners, undergoes transformation as a Wild Symbol.
A grayscale image captioned as Misterioso Campeon (Mystery Champion) is another contender. Its true image is that of the underdog fighter Luchadora. Feisty and looking very lucha-aggressive, the Luchadora image awards the highest cash rewards that can be won during the bonus round. Aside from the Free-Spins Bonus Round, another ring event to anticipate is the emergence of the Lucha Smackdown Symbol, as this icon awards one of three (3) bonus rewards during base and bonus game modes.


Luchadora Online Slot: Wild Symbols
Any of the four (4) Wrestlers can become a Wild Symbol. When a Luchador lands on a Ring Corner Position, the icon transforms into its corresponding Wild image, i.e.: El Toro Wild, El Rayo Wild, El Serpiente Wild and El Pantera Wild. A Luchador Wild transformation occurring during a base game spin influences the outcomes of the related spin. If transpiring during a Free-Spins Round, the Luchador that transformed into a Wild icon will constantly appear in Wild form through the remaining bonus spins.
If by chance all Luchador images emerge as Wild Symbol after a bonus spin, the event will likely boost bonus wins, as it will bring the top-paying Luchadora Symbol to the slot ring.
Of the four images, El Toro is the highest paying icon when constituting non-Wild winning combination. Yet if any one of four (4) Luchador Wild images completes a winning five-symbol Wild matched grouping, the arrangement garners 625x the Line Bet; the same 5-icon payout awarded by a Regular El Toro winning combo.
The Ring Corner Position refers to the topmost and lowest positions of Reels 1 and 5.
Luchadora Online Slot: Free Games
It takes three 3 or more Bonus Symbols (Championship Belt) totems to activate the free games. The number of spins awarded, depends on the number of Bonus icons triggering the round. Three (3), four (4), or five (5) award 7, 11, or 15 bonus spins, respectively. The Bonus Round is a much-awaited event because in this segment, the highest-paying Luchadora Symbol may be revealed.
The Luchadora Symbol works in conjunction with the grayscale Underdog (Misterioso Campeon) icon. During a round of free games, and when all Luchador symbols have become Wild icons, all Underdog images occurring as outcomes of a bonus spin, transforms into Luchadora Symbols. Three (3), four (4), or five (5) Luchadora icons lining up as winning combination in any payline correspondingly award cash prizes equivalent to 62.50x, 125x, or 625x the coin value staked per line.
Luchadora Online Slot: The Lucha Smackdown Extra Bonus Feature
The Lucha Smackdown Symbol is an icon that awards random bonus rewards every time the icon comes into view.
If appearing as outcome of a base game spin, a 2x, 3x, 5x, or 15x Bet Multiplier will bring instant bonus wins. In some instances, the Lucha Smackdown Symbol may instead activate the Lucha Free-Spins Bonus Game.
Yet if the Lucha Smackdown Symbol occurs after a bonus spin, the icon may award 2, 3, 5, or 7 additional Free-Spins, or instant Bonus Wins (Bet Multipliers), or trigger the Ring Corner Feature.