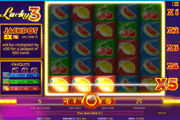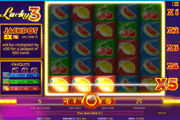 Lucky 3 Online Slot : Win-Multipliers on Every Payline
Lucky 3 online slot is iSoftbet's reinvention of the traditional fruit theme. Only three (3) reel elements, Watermelons, Cherries, and Lemons appear across the 5-row x5-column slot grid. Here, all five horizontal lines represent a paying line. Identical fruit icons therefore, need only to align horizontally from left to right in order to collect a corresponding reward.
Lucky 3 Online Slot: Payline Win-Multipliers
As a fruit-themed revival, this fruity slot makes a difference because each horizontal line applies a Multiplier on a related payline win. The topmost row has a x1 Multiplier. The factors increase by 1, from x2, x3, x4 and up to x5, from the second paying row down to the 5th and last straight line.

This game though does not have a Wild Symbol or Bonus Game Feature. Nonetheless, it takes only three-of-a-kind fruit icons in adjacent cells starting from the leftmost reel, to strike a win. Landing on four or five is of course, a boon, as such combinations command higher pays. More so, if the longest 5-of-a-kind win occurs at the bottom line as the corresponding payout increases 5x.
Lucky 3 Online Slot: Rewards Scheme
Three, four, or five identical symbols is a payline win if a grouping aligns uninterruptedly in any of the five (5) horizontal lines. The alignment must start from the leftmost column going rightward. In a longer four- or five-symbol grouping, only the longest combination will be evaluated as winning arrangement.
The Lemon icon has the highest Paytable Values. It awards 5, 10, or 25 coin credits on a winning 3, 4, or 5 matched combo. Except when five (5) Lemon Symbols strike a win in the 5th payline. The game evaluates this particular combination as a Jackpot Win garnering the 500-coin top prize. A 20x Multiplier instead of the regular 5x Multiplier, applies to the corresponding 25 coin-win ( 25 coins x 20).
The Cherries Symbol ranks second, as a horizontal grouping of 3, 4, or 5 Cherries from the leftmost position of a paying line, garners a coin reward of 2, 5, or 15. The Watermelon icon has the lowest Paytable Values of 1, 3, or 10 for winning combinations. Still, this icon is just as bankable as it tends to appear frequently in all five paying lines.
All coin rewards gained from winning Lemon, Cherries, and Watermelon images are then multiplied by the coin value staked as Bet per line.
Lucky 3 Online Slot: Betting Choices
All five (5) horizontal paylines are active during each reel-roll. A stake per spin therefore is equivalent to five bets covering all lines.
Lucky 3 online slot offers coin values of 0.01, 0.02, 0.05, 0.10, 0.20, 0.50, up to 1.00 as betting choices. Any coin value chosen represents the Bet Line, the amount that multiplies the coin credits won from a payline win. The coin value will then be multiplied by 5 paylines to arrive at the Total Bet that activates every spin.
Based on the lowest and highest coin value choices, the minimum bet for a Lucky 3 spin is 0.05 (0.01 x5 paylines), while the maximum is 5.00 (1.00 x 5 paylines.)