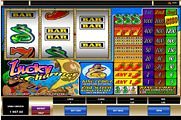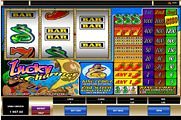 Lucky Charmer is a three reeled game that invites players to accompany a snake charmer. A snake charmer is a swell trained snake handler that we all see and enjoy at circus shows or on TV shows. He plays on his musical instrument as a dangerous snake comes out of the bag. Players can see this exact image under the reels of the game at the bottom left corner of the game's screen with the name of the game written on top of it "Lucky Charmer" in gold.
The game has three reels and one middle payline, like any classic slot machine that can be found at local bars and pubs. The format of the game also resembles these games as the reels of the game can be found on the left side of the game while the paytable can be found on the right side. Starting with the reels, the symbols that appear on them are inspired by the theme of the game as they include golden cobra, a green cobra, chili peppers, bar symbols and red sevens.

As for the paytable of the game, it consists of three columns, each column shows players how much they can earn according to the combo of symbols they achieved on the payline of the game and the number of coins they have placed since players can place 1, 2 or 3 coins on the payline of the game.
Speaking of coins, players can place the wanted bets under the reels by going through the betting option at the bottom of the screen. Players will find a blue button that says "Bet One". Players who want to place two coins will click twice and players who want to place 3 coins will click on it three times. Players who want to place the biggest wager instantly can click on Bet Max, which will place 3 coins and it will start spinning the reels at the same time.
The highest payout that players can earn through Lucky Charmer is equal 5000 coins. This amazing jackpot payout is given to players who placed the max bet of three coins on the payline. This jackpot also pays 1000 and 2000 coins for players who placed 1 coin and 2 coins respectively. It is awarded when players get three green cobra snake symbols on the payline of the game.
The game has a special symbol, which is the golden cobra. It is capable of doing two things. The first thing it can do is replace any other symbol on the reels with the green cobra, which can help players trigger the jackpot. The second thing is that when the golden cobra appears anywhere on the payline, it will trigger a bonus round that will take players to a second screen. This can only happen when players have placed the max bet of 3 coins. If it appears on the payline without the max bet, the second screen bonus will not be activated.