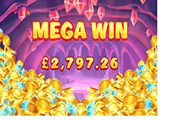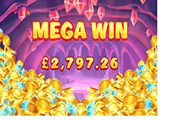 Lucky Little Devil Online Slot: Friendly Little Devil Powers Up Spins with Mystery Symbols!
Lucky Little Devil is a pay-all-ways, 10-payline slot created by Red Tiger. Although carrying a somewhat fiendish theme, the cartoon graphics gives the 3×5 grid a pleasant and entertaining appeal. The little red devil keeps the game on fire with wins; randomly adding devil coins that reveal identical images. In an icon-matching game that follows flexible rules, an influx of one-of-a-kind symbols is likely to produce Super Big, to Mega Wins!
Here, all works of the little devil, aims to give players increased chances of earning extraordinary bonus pays. The most exciting of which, is when the entire grid fills with Devil Coins. If luck is on a player's side, the Devil Coins may reveal a high paying type of symbol. During free games, the helpful little imp brings out a Mega Devil Coin; or intervene to add extra bonus spins.
Look forward to the arrival of the 666 icon, as this element has the highest payout values. A winning combination comprising 3, 4 or 5, 666 Tokens, earns players 200, 300 or 1,380 coin credits.


Another icon to anticipate is the Jackpot Symbol, which emerges only in Reels 1, 3 and 5. If after a spin, all three reels return with a Jackpot Symbol, the event unlocks the Jackpot Feature.
Lucky Little Devil Coins are Mystery Symbol that populate the reels in several random positions. Once the reels complete a roll, all Mystery Symbols in view rotate in unison and thereafter reveal a single type of paying element. The possibilities of hitting multiple wins are greater, since the game evaluates wins organised from any payline position.
Lucky Little Devil : Random Bonus Features
Once in awhile, the featured fiend steps in with any of the following:
Little Helping Hand – During an ongoing spin, the imp will power it up by placing several Devil Coins in random positions. The valuable icons make sure the spin will produce winning combinations.
The Devil's Work – Enjoy the moment when the grid starts filling up all reels with Mystery Coins. Multiple payline combinations are bound to happen. Whether the Devil Coins reveal high or low win symbols, players can expect to rake in exceptionally big wins.
Lucky Little Devil Free Games
The cute little Devil's image represent the Free Spins Symbol. Players need only to land on three (3) Free Spins Tokens to unlock the free round. The number of spins awarded is random; but with potential to increase while the free bout is in progress. The lucky imp will bring on additional free-spins to extend the bonus game.
Bonus Wins will come with certainty. The Devil Coin that emerges during base games as stacks of 1×1 icons, occur in free bouts as a Mega Devil Coin. Every Mega Coin brings a block of nine (9) identical tokens clustered together in all 3 rows of 3 adjacent reels. Needless to say, a Mega Block of one-of-a-kind images, naturally brings multiple payline wins.