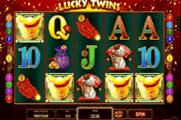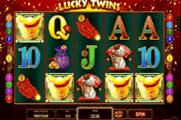 Lucky Twins – Feng Shui-Themed Traditional Online Slot
Lucky Twins online slot by Microgaming offers straightforward slot play. Devoid of frills, extras and bonus spins as it focuses mainly in showcasing Feng Shui good luck charms for the New Year. As most Asians believe in Feng Shui (fŭng′ shwā′), the Chinese practice of placing objects in patterns that bring positive effects could work well in this Microgaming slot offering.
Objects widely believed as bringers of prosperity represent icons that could land on positive positions across the 3-row, 5-reel slot and in any of the game's 9 paylines. Microgaming gives a promise that with Lucky Twins, slot players could win as many as 25,000.00 jackpot.
[/CBC]
The Lucky Twins Logo represents the highest paying symbol. It awards cash credits of 5.00, 50.000, 200.00 and 1250.00 for every 2, 3, 4, or 5 of such symbols appearing consecutively and according to a payline pattern.
The beckoning white Maneki-neko or the Chinese Fortune Cat, and sometimes called the Welcoming Cat is also around to attract good fortune. This popular Chinese talisman is the second highest paying reel icon as it pays 1.25, 20.00, 62.50, or 150.00 for two or more Maneki-neko charms emerging as matched symbols in a payline.
This online slot also features traditional New Year noisemakers such as the Handheld Drum and Firecrackers, apparently to ward off negative chi. The I-ching Coins tied in a mystic knot to secure wealth, could also enhance the positive energy drawn by the Lucky Twins online slot.
The lesser paying, yet frequently appearing Lucky Twins reel icons include the usual A, K, Q, J and 10.
Lucky Twins Online Slot Wild Symbol
The image of the Lucky Twins represents the Wild Symbol that can pose as replacement for regular icons to complete one-of-a-kind paylines combinations. The Wild Twins as Microgaming calls it, appear only in Reels two (2), Three (3) or Four (4).
Lucky Twins Online Slot Scatter Symbol
The Gold Ingot is the Lucky Twins Scatter Symbol. The emergence of three (3), four (4) or five (5) Gold Ingot symbols altogether in a payline brings around Scatter Pays. Coin. Scatter payout values depend on the total bet value staked on the triggering spin. The highest Scatter Rewards that can be won based on the highest or the maximum bet allowed per spin are 90.00, 450.00 and 2250.00.
The choices of bet values to place as bet per spin are from 2.25 (9 x 0.25), 4.50 (9 x .50), 9.00 (9 x 1.00), 18.00 ( 9 x 2) , or (9 x 5) 45.00. Those amounts cover for all nine (9) paylines.