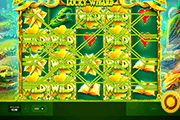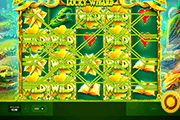 Lucky Wizard Online Slot: Wizard Randomly Adds Win-Boosting Features to the Reels
Lucky Wizard by Red Tiger is a 40-payline online slot loaded with random bonus features. The Wizard arbitrarily appears to add any of six (6) bonus features. Once the Lucky Wizard comes forward, players can expect to land remarkable Big Wins! Wild Symbols may appear in massive numbers; or a pot of gold awards an instant spin-win. Some features modify the reels by removing low-win totems, or by shifting positions of the high-paying icons. Reels may also Nudge to ensure a win-event, or be filled instantly with Bonus Game Symbols.
Images that may take on winning line positions are mostly objects associated to the Wizard; except for the highest paying regular icon and the low-win tokens. The Golden Horseshoe, widely believed as bringer of good luck, is a top payer. Three, four or five Horseshoe images lining up in any paying line as one-of-a-kind grouping, award coin credits of 40, 120, or 400, respectively. The great thing about the Horseshoe images is that they tend to land as Stacked Symbols, either partially or entirely in one or more reels. Still, the highest Paytable Values belong to the Wild Symbol, as this special icon can form its own winning arrangement.

Lucky Wizard Online Slot: Wild Symbol
Another popular good luck charm appearing as reel element, is a Golden Four-Leaf Clover. This icon represents the Wild Symbol that can substitute for any regular-paying element to complete a payline combi. Moreover, the Clover Wild can form a winning array in any payline. Three, four, or five Clover Wilds, garner remarkable coin rewards of 80, 240, or 800, correspondingly.
Lucky Wizard Random Bonus Features
When the titular Lucky Wizard steps in front of the slot screen during a spin, the Wizard will cast a spell and bring on any of the following Lucky Bonus Features:
Lucky Wilds – Clover Wild Symbols appear massively across multiple reels. The occurrence not only increases chances of striking regular payline wins. Numerous Wilds will be on hand to serve as eligible components of a matched-symbol grouping. Moreover, the substituting Clover Wilds themselves, can form one or more winning payline arrangements.
Lucky Bonus – This feature presents an opportunity for Lucky Wizard players to instantly enter the Bonus Game. Ordinarily, activating the Trail Bonus Game, requires landing on three (3) Bonus Symbols simultaneously after single spin.
Lucky Wizard Trail Bonus Game depicts the Wizard's quest to reach a Treasure Chest by traveling through a maze. Here, players select one of six (6) Bottles of Potion to determine the number of steps with which the Wizard will advance. If the number revealed by a Potion includes an "Again" prompt, another potion will be selected.
The "Again" prompt may appear repeatedly until the Wizard reaches the Treasure Chest. Otherwise, a number without the "Again" prompt ends the Trail Bonus Game. The rewards collected will then be based on the Total Bet Multiplier reached by the Wizard.
Lucky Reels – Here, the Wizard's spell will remove all card suit symbols from the reels. The reels will therefore display only high paying icons once the spinning motion stops.
Lucky Win – The spin outcome will include a Pot of Gold in the center reel. Gold coins will pour into the pot and will be awarded as instant bonus prize.
Lucky Swap – While a spin is ongoing, the high-paying images swap places to increase chances of landing on exceptional rewards.
Lucky Nudge – This feature ensures that the triggering spin will result to a win. The Wizard's magic spell will nudge one or more reels until at least one (1) winning combination is achieved.