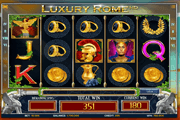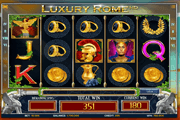 Luxury Rome HD – Increase Payline Wins by Triggering Wheel Bonus or Instant Bonus Game
Luxury Rome HD online slot is originally, an iSoftBet slot machine content. Configured with 9 fixed-paylines and 2 Bonus Games that increase the odds of winning on bets staked per spin. To make it easier for players to complete payline matches, the Wild Symbol appears in any reel. To further optimize wagers placed on each spin, a Scatter Symbol awards Bonus Pays on every 2 up to 5 Scatters, regardless of where the Scatter Symbols are positioned.
Luxury Rome features reel icons seemingly inspired by Shakespeare's 16th century play about Antony and Cleopatra. The highest paying symbols are images of an Ancient Roman General and of an Egyptian Queen. On every 2, up to 5 payline matches, the Roman General icon correspondingly awards 25, 50, 200 or 1000 coin credits. The Egyptian Queen, on the other hand, awards 20, 50, 150, or 800 coin credits accordingly.

Yet the Luxury Rome reel symbols that bring greater rewards when appearing in groups of 2 or more in a payline, are the Golden Goose Wild Symbols. Even better still, are the images of the Ancient Roman Helmet, of the Golden Horseman and of the Colosseum. The appearance of those special symbols awards wins without need to conform to any payline pattern or symbol-matching rules.
Luxury Rome – Golden Goose Wild Symbol
The venerated Golden Goose of Juno appears in this game as the Wild Symbol. It comes into view in any reel or row, capable of completing identical-symbol matches in the same payline in which the substituting Wild appeared.
Now if 2, 3, 4, or 5 Golden Goose Wilds line up in any payline, coin credits of 2, 10, 100, 500, or 1000 will be awarded as wins! The Wild though, cannot pose as alternative icon to complete any Bonus symbol combination.
Luxury Rome – Galea Bonus Wheel Feature
The image of a Roman Helmet, otherwise known as Galea, represents the trigger symbol for the Bonus Wheel Feature. Three, four, or five Galea icons in any row or column, and after any spin, initiate the activation of the Bonus Wheel. A virtual spin of the wheel will bring guaranteed bonus coin credits that increase any winnings gained from the triggering spin.
Luxury Rome Game Info states that the Bonus Wheel is configured to generate rewards of up to 4,950 extra coins.
Luxury Rome – Colosseum Scatter Symbol
An ancient Roman Colosseum, or Coliseum as it is called today, represents the Scatter Symbol. It awards Scatter Pays of 18, 45, 225, or 1800 coin credits on every two, three, four, or five Colosseum icons emerging in any position. The Total Bet (9 paylines x coin value) multiplies the Scatter Coin Rewards.
Luxury Rome : Golden Horseman Bonus Game Symbol
After a base game or free-spin, three, four, or five Golden Horseman icons appearing as outcomes, will transform into a pair of Gladeus or Ancient Roman Sword. Clicking on all Gladeus images in view will unravel Mystery Prizes. The rewards in store may be sets of free-spins in varying numbers, or win multipliers, or a combination of both.
The numbers of free-spins and values of win-multipliers unraveled will be summed up and awarded as bonus rewards. The win-multipliers apply to all wins gained from the spin that triggered the bonus feature, as well as free-spins wins if there are any. If the triggering spin has zero payline wins, and purely value multipliers were revealed, only the Total Bet staked will be multiplied.