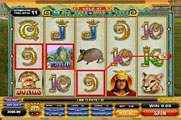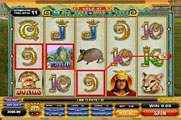 Machu Picchu Free Slot Review
Machu Picchu is a mountain or a prominence that has a broad base that ends in a very sharp peak. It is a 15th century Inca Site that is located almost 2430 meters above sea level in the Cusco Region. The Incas where quite known for their riches and fortunes, and Machu Picchu is one of their most popular sites, this is why Microgaming has decided to build a game that is themed around the rich and the exotic Inca culture and named it after one of its most popular sites.

This game is going to take players back in time, to the ancient civilization of the Inca where they can enjoy their time as they go through the exotic culture and as they claim their lion's share of the riches and the fortunes of the Inca. They will be able to do that as they place bets and spin the reels of the game so the symbols would start forming combos and trigger special features so they can start earning the great rewards that the Machu Picchu Online Slot has in store. Players would be able to view the different pays and features by clicking on the View Pays button.
Free Slot Historic Inca Theme
The game manages to create the historic theme through the visual of the game. This is why players will notice that the reels and the interface are made out of gold, to mimic the rich culture of the Incas. They would also notice that the reels themselves are found in Machu Picchu. As for the symbols, they are all inspired by the Inca culture as they include the king of the Inca, his queen, a golden Inca mask, a lion, an armadillo and card symbols that come outlined with gold to be fitting to the theme of the game.
The game's betting options are found underneath the reels at the golden control panel. Players will be able to choose the number of lines, the value of the coin as well as their number on each of the lines. There is also a Bet Max button that they can click on so they can place the biggest wager that the game has. The game also comes with the Auto Play feature in which players will specify their bet and then click on the Auto Play button so they can decide how many spins, or when do the spins stop. This way, they don't have to click the spin button every time they want to spin the reels.
The Wild Peak of Machu Picchu can replace any other non special symbol on the reels of the game to help players in getting rewarded. When players get the Inca King and Inca queen on side to side reels on the 4th and the 5th reel, the Llama Deification feature will be activated. They can then enter the Gather Inca's Riches free spins round that is activated when they get 3x bonus symbols on the reels of the game in any location